Are you in search of a laser golf rangefinder? Usually, people want a rangefinder with great accuracy, is simple to use, lightweight, has flag lock technology, etc. All in all, almost all golfers around the world want a suitable rangefinder. But, it's not that easy to find one.
With Mileseey, there's a great chance you won't be disappointed. Your money will be well spent too. Further, this rangefinder also uses modern technology. In this article, we will discuss the Mileseey professional laser golf rangefinder reviews. Let's jump into that –
Mileseey Laser Golf Rangefinder reviews
Mileseey is a small rangefinder. You can use it without any hassle. Moreover, it is very budget-friendly. If you have to check it out on your budget, you can purchase this one. You won't be disappointed at all.
Besides, if you are looking for more in-detail information, keep reading our article.
Features of the Mileseey Golf Rangefinder
Here are the key features of this product.
The Mileseey golf rangefinder will provide you with sheer accuracy. This rangefinder's accuracy can reach up to ±0.5M/0.55yard. 6X magnification, dioptre adjustment (±5D) and 7-degree field angle will help you to find accurate metering. That's why you can get a precise and more exact measurement.
One of the best things about this rangefinder is it is so nice and easy to use. You don't have to study too much to conduct this rangefinder. The space of the rangefinder can be registered in a short time. After that, you can also find the display so fast. It is also made so nicely and easy to install.
It's not a problem to figure out the close distances like trees or bunkers with this rangefinder. However, if you want to know the distance to the flag, you have to take the help of flag lock mode. Fortunately, the Mileseey laser golf rangefinder also possesses this mode.
Now, the question is how to use this mode? Well, we'll let you know. Firstly, you have to hold down the laser button. Then, shift your aim to pass the flag.
After that, slowly and steadily step the crosshairs on the array over the flag. When the Mileseey rangefinder locks on to the flag, it will instantly show you the yardage. Then, it will notify you by vibrating itself.
Slope- Compensation Technology
To enhance its accurateness, the Mileseey golf rangefinder uses slope-compensation technology. It can calculate the uphill or downhill distances automatically. After calculating distances, it displays the distance to the pin. As a result, you won't find any problem choosing the right club and hitting the ball with sheer confidence.
Advanced Flag Acquisition Technology
Here's another fantastic feature of the Mileseey laser golf rangefinder. This device can filter out the flagpole from background targets. As a result, you can be sure that you are only shooting the flag.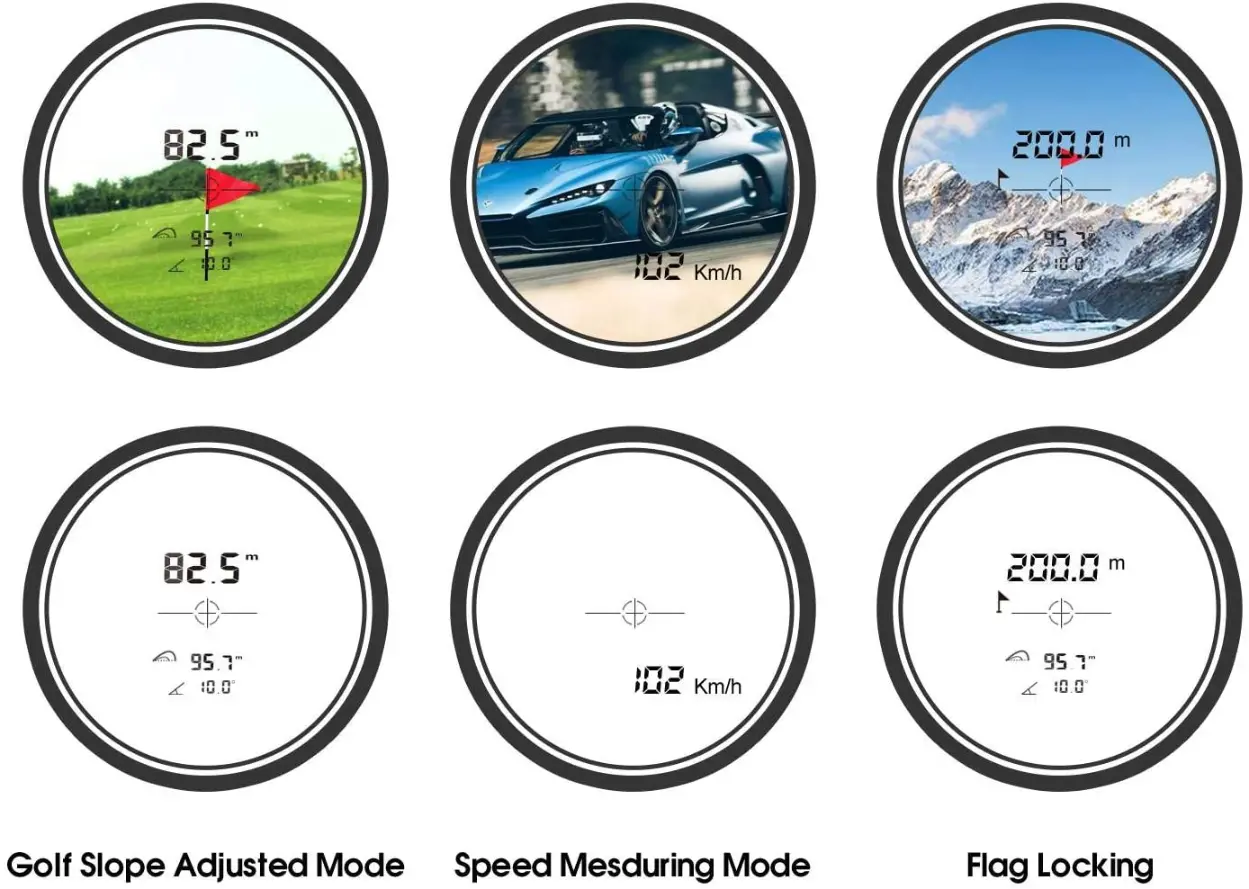 You won't face any difficulties in using this rangefinder. It's so simple and straightforward to use. It also supports multiple modes. Moreover, the whole product is so compact, lightweight and easily portable from one place to another.
The armor of the rangefinder is made of rubber. Due to its rubber gear, the handle of the rangefinder is non-slippery. Further, it takes just 8 seconds to find out distances to several targets.
Mileseey laser golf rangefinder is ergonomically designed. That's why you can taste a superior experience with it. The rangefinder is pocket-sized. Hence, the manufacturing company built it to make it more user-friendly to make it more fun for golfers.
Lock on to the flag so quickly with superior accuracy with this rangefinder. One of the most important assets of this rangefinder is that it contains pin seeker technology. This rangefinder secures each yardage it gives haven't any space for negative thinking.
As you pan over the surroundings, Mileseey will continue to give you updated readings on its crystal clear LCD. All you need to do is practice regularly at various golf games to get outstanding results.
This rangefinder is fully waterproof. You can play golf in the rain without any doubt. Moreover, it is also frog proof.
Premium Durable Zipper Pouch
A durable premium hardshell carry. A soft-lining zipper attests to the hardshell. This zipper pouch is made of high-quality materials. Further, it doesn't break so easily and will last long. This pouch is essential to protect the range finder from impacting.
It's such an irritating thing to see the battery become dead during the game. Besides, it's more annoying to change the battery in the middle of the golf game. It indeed distracts the mind as you can't focus on the game anymore. Disturbing, isn't it?
Most golf rangefinders available on the market don't have any flexible battery door to open. You have to fight to replace them! These rangefinders generally come with a CR2 3V lithium battery. Therefore, you can easily play at least 15 rounds of games before replacing them.
Furthermore, the battery goes into inactive mode after 8 seconds of inactivity. There's a problem, though. The battery could lose power when it gets attached to the rangefinder. So, it's a smart move to remove the battery after use. It will help to prolong the battery life.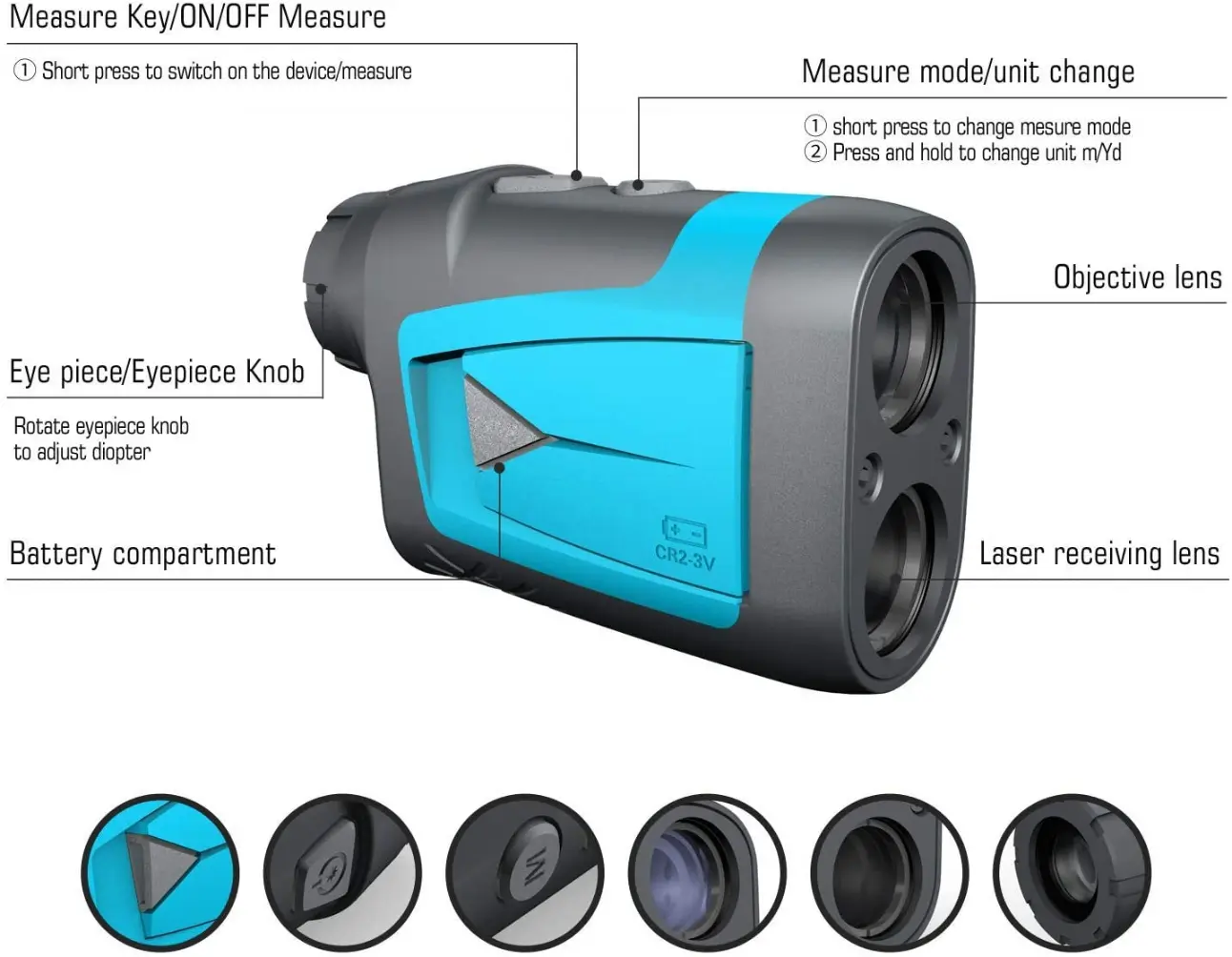 Mileseey Laser rangefinder is a class 1 laser and eye safety certified by the FDA (U.S. Food and Drug Administration). So, you don't have to worry about the safety and security of this rangefinder. You can use it with utter relaxation and without any tension.
Apart from the rangefinder itself, you will get a premium carrying pouch with a strap, CR2 3V lithium battery, user manual, etc., along with the product.
The carrying pouch is a waterproof and fog proof hardshell case. There is also an attractive orange color lining to keep the rangefinder secured.
The manufacturing company of this product provides 24-months of warranty. But, you have to register online to get the service. Moreover, you will also get lifetime customer support from the manufacturing company.
Furthermore, we've shown almost all the features. Here, we want to add a point. Apart from golfing, you can use the Mileseey professional laser golf rangefinder for hiking, sports watching, hunting, and other outdoor activities.
What Things Should I Learn More About MiLESEEY Rangefinder?
Although we've already given almost all the features in the upper section, we want to tell you some important things here. The foremost thing is to change the measurements from yards to meters by holding down the mode button for a few seconds.
Another thing is the product is actually not fully waterproof! Yes, it could disappoint you, but it's true! You should keep it home on rainy days. But, you can use it in a small amount of rain. This is best if you leave this one in heavy rain.
MiLESEEY Golf Rangefinder Review – Pros and Cons
Here are some pros and cons of this rangefinder. Let's check –
PROS
You can use this rangefinder with a single hand. That's why it makes vertical operation much easier.
Inexpensive and easy to use. It's a great device for a good range of price.
Due to the pin seeker technology, you will get superb accuracy.
This rangefinder has an upgraded LCD display. For this reason, you can see distant objects with a clear view.
24 months of warranty and lifetime customer support.
Cool design, user-friendly, environment-friendly.
Long-lasting battery.
CONS
Some customers complained about the damaged lens.
The customer service isn't strong enough.
MiLESEEY Golf Rangefinder Review – FAQs
Here are some common, frequently asked questions on Mileseey golf rangefinder. Check it out –
Why choose the Mileseey golf rangefinder?
It has superb accuracy, can be measured in yards or meters, is durable, lightweight, and has modern tech. So, there are multiple reasons behind choosing the Mileseey golf rangefinder.
Can I read easily in this rangefinder?
There is a very clear and upgraded HD display in this rangefinder. For this reason, you can easily see the readings with a clear view. You'll see the readings in large too.
Does this rangefinder provide real distance or just adjusted yardage depending on the slope?
Fortunately, Mileseey rangefinder provides both real and adjusted yardage distance. The actual yardage is bigger while the slope yardage is pretty much smaller.
It will depend on how you will use it. If you can use it smartly, then it can provide you with a long-term service.
Final Say
We're almost at the end of our discussion. MiLESEEY Professional Laser Golf Rangefinder is surely an outstanding and top-notch rangefinder. Besides, it can give you high-class technology along with stunning performances. Hence, it is a terrific product at a reasonable price. The design, battery, performance, safety, etc., are totally up to the mark.
So, what's your opinion regarding our article? Do you have anything to say? You're welcome to do it in the comment box. Stay well and healthy!
Last update on 2023-12-02 / Affiliate links / Images from Amazon Product Advertising API