Are you seeking a high-quality and highly accurate rangefinder? Then, Gogogo Sport Vpro Laser Golf Rangefinder could be the perfect option for you. It is also an affordable option. Moreover, this product can easily compete with the famous rangefinder available on the market.
If you have the desire to get the high-level distance measurement in a cost-effective range, you can go for it without a second think. Apart from golfing, it can be used in various jobs like hunting, bowhunting, etc. Further, this rangefinder has so many advanced features.
Here, we will discuss the Gogogo Sport Vpro Laser Golf Rangefinder Review. Let's go –
Gogogo Sport Vpro Laser Golf Rangefinder Reviews
The Gogogo Sport Vpro Laser Golf Rangefinder is definitely a top-dog in the rangefinder industry. This is both cost-effective as well as excellent working capability. Keep reading to learn in detail about the product.
Key Features of the Gogogo Sport Vpro Laser Rangefinder
There are some extraordinary features available in this product. They are –
The speed of this golf rangefinder isn't up to the mark. In fact, some cheaper models have a slightly better pace than this one. Nevertheless, when it comes to the matter of accuracy, it is awe-inspiring. It will supply you with an accuracy of +/- 1m. Even, the magnification of this rangefinder can go up to 6x.
In addition, it gives remarkable precision for hazard viewing. However, the speed is not that fast. For instance, it may need around 10 seconds to provide you with the distance from the flag. It could feel like an infinity war on the golf course!
If you want to stick with the Gogogo Sports Laser Rangefinder in a professional tournament, you will get an advantage. You can easily turn off the switch by one press in the definite button. That's it! Your game will be marked as legal.
Most people doubt rangefinder whether it will be easy to use or not. You won't have to think about the Gogogo Sport Rangefinder. Hence, you can use it very easily. All you need to point it to the exact location and press the button. That's it. You'll have an alert vibration pulse after pointing.
The truth is even if you're a beginner, you won't face any problem using this golf rangefinder. It's that easy!
At this low-cost range, you will get a better slope function. The Gogogo Sport will give you advanced features like a slope calculator and speedometer. That speedometer is necessary for hunting jobs. On the other hand, there's also an automatically calibrated system.
This is an Artificial Intelligence (A.I) feature. The flag can assist you to find out the flag in the distance while locking it in the perfect length. It can measure the actual distance between you and the locked flag. Hence, it will show the result so quickly.
As a result, you'll be able to know how far you need to hit the ball. This will ultimately improve your game in a tournament as you will gather high confidence.
Optics is one of the marvelous things about this rangefinder. It can give you a clear image of a thing even more than 600 feet away. Moreover, the optic lens is fully multi-coated. This multi-coated lens is capable of decreasing the amount of reflected light. As a result, your image will be clear and brighter.
The highly advanced JOLT technology will be found in Gogogo Sport Vpro Laser Golf Rangefinder. It works as a reminder when you've locked or flagged a target from a certain distance.
Pulse Vibration Technology
When you are a rangefinder user, it's easy to surmise that you'll want the tool to be steady in your hand. To calculate the long distances, your hands need to be stable and balanced. If it shakes somehow, things could go wrong. Hence, you won't be able to find out accurate data.
Thanks to this Gogogo rangefinder's advanced pulse vibration technology, you can lock the target when you think that you are in the right mood.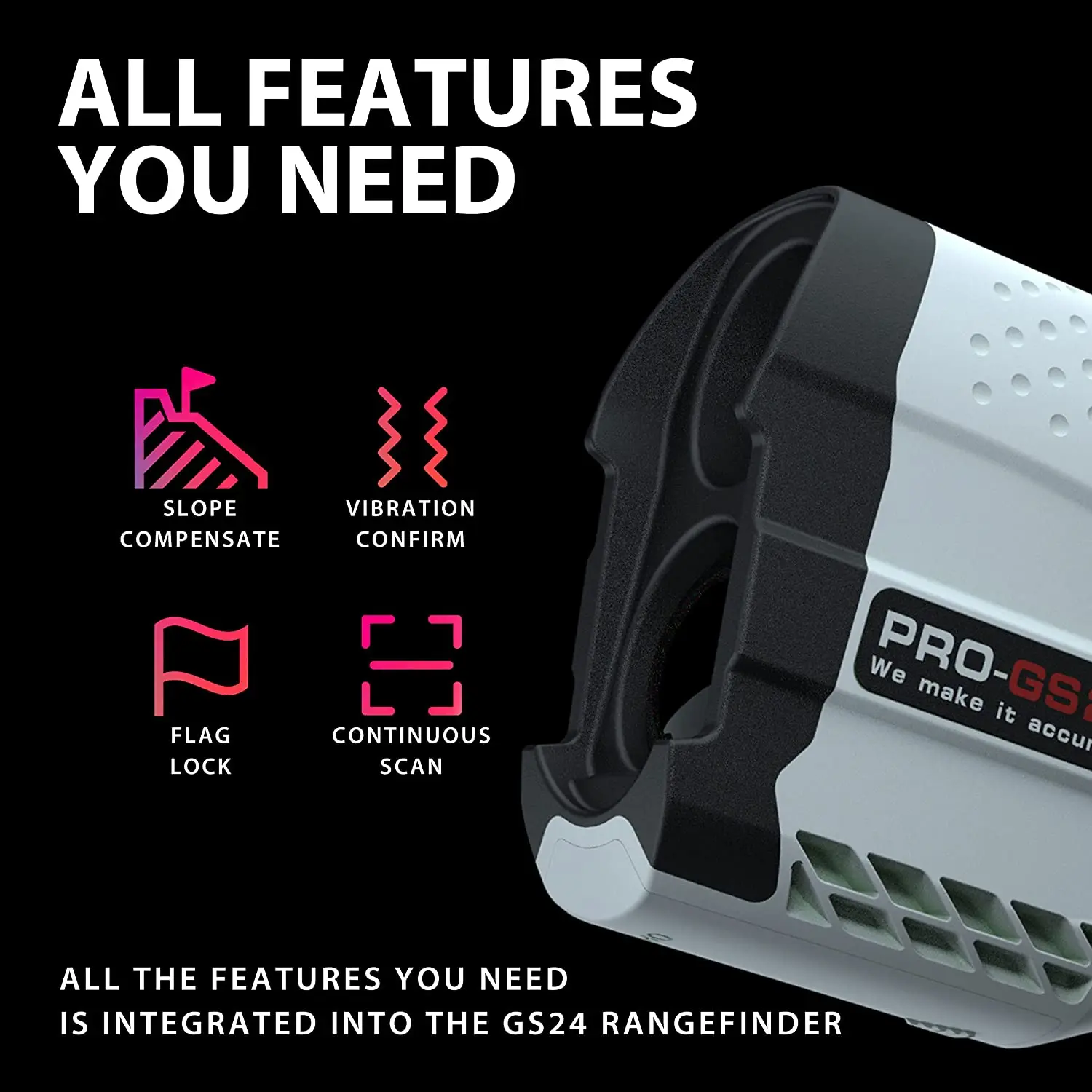 The item's weight is only 184 grams. Its size is very compact and nearly impenetrable. For this reason, you can use the product even with a single hand. At first, hold it with your thumbs. Then, press the button. That's it. After that, you will be able to find the distances you need.
The scanning system of this rangefinder is simply gorgeous. You'll be amazed when you view the objects. This rangefinder can view more than one target at the same time with several views.
The construction of the product is solid and superb in a word. Hence, the vibration feature is also fantastic.
A perfect rangefinder is reliable and authentic. Gogogo golf rangefinder is no different. Your golfing skills will be vastly enhanced with the introduction of this ranger. Further, you will be able to make good decisions. When you use it, you can easily make a judgment.
You'll find utter comfort as well as a premium feeling of golf with this great rangefinder.
Apart from golfing, you can also use this rangefinder for various tasks like hunting, bow hunting, and other professional things.
The manufacturing company will provide you with a 1-year warranty. Not only that. They will also offer you a money-back period. If you face any quality issue with the product, they will send a new one or a full refund is optional (Except second-hand product).
Click HERE & Check Today's Price On Amazon
Advantage of the Gogogo Sport Vpro Laser Golf Rangefinder
There are multiple advantages of this rangefinder. Now, we will talk about it. Let's see the advantageous sides of this product. Here, we go –
You don't have to learn any new thing to use it. Beginners can also use the product easily. The functions of the equipment are so simple. Additionally, you will find a manual. As a result, you will get further instruction to use the tool.
Doing Great in the Course
As the product consists of PinSeeking technology, ARC (angle range compensation), Flag Pole technology, etc., there's a big chance you could do fantastic on the golf course. You will have tremendous confidence ahead of the game. Therefore, the possibility of performing well gets bigger.
You could do multiple tasks with this rangefinder. You have the opportunity to do golfing, hunting, bowhunting, etc. with this one.
The weight of the item is only 184 grams. So, it's easy to guess that you don't have to suffer from carrying the product. You won't be fatigued with it. Moreover, you can fetch it with a strap quite easily. It will ultimately help you to stay fresh and perform well on the golf course.
Use Button
There are two core buttons attached to this product. They are –
On/Off and Target LOCK
The distance measurement – yards or meters.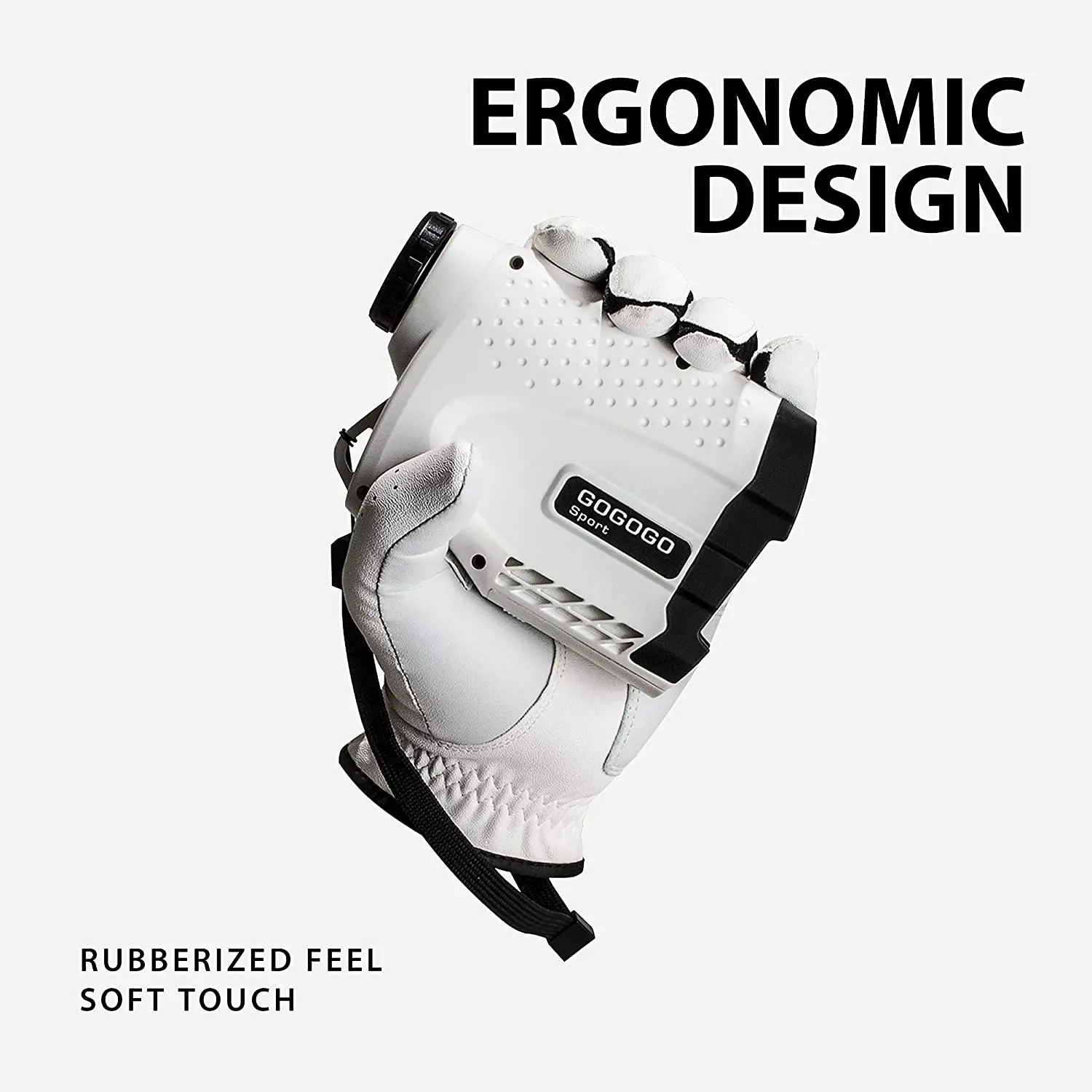 PROS and CONS
Just like every other product, the Gogogo Sport Vppro Laser Golf Rangefinder has its own pros and cons. Let's check –
PROS
The rangefinder is ergonomically designed and that's why you won't be fatigued to hold it
It is a low cost yet high-quality product
This product runs on 2 AAA batteries
It contains an adjustable diopter lens
The handle is yielded through rubber grips. This is why it is so much comfort in hands
It offers 6x magnification. You can see measure up 5 to 650 yards with this tool
The accuracy is superb in a word
It comes with a 1-year manufacturing warranty
CONS
The product is a bit slow to provide readings
The readout text leaves center on the off chance that you change the focal point
Build quality is not up to the standard.
The Price Range of Product
Here, we are giving the price range of various Gogogo rangefinding products.
Final Words
It's no need to explain that we're completely in love with this little, elegant, and extraordinary rangefinder. This equipment contains all the high-quality features. Furthermore, it also has some advanced technology like slope tech, speedometer, PinSeeking tech, etc. The most significant matter is all of these characteristics come at a very affordable price.
Another thing is it can go well with both beginners and professionals. We will gladly recommend this product to somebody seeking to get a good-quality rangefinder in a reasonable range. By the way, what do you think about our article? Do you have any other opinions regarding it? You are welcome to share it in the comment box below.
Last update on 2023-06-06 / Affiliate links / Images from Amazon Product Advertising API