The golf rangefinder market is very constant. You don't know what will happen tomorrow. Things change so much fast in this arena. BOBLOV 650 Yard Golf Rangefinder is one of the top-notch rangefinders in this field. It is a very cost-efficient yet high-quality golf rangefinder on the market.
Hence, the Boblov golf laser rangefinder is capable of handling the task so well. This product can provide superb and well-founded performance in golfing. Apart from the golfing area, it is also reliable in hunting, bowhunting, and other professional application. It is famous for its superb accuracy. Here, we will discuss the BOBLOV 650 Yard Golf Rangefinder Review. Let's jump –
The BOBLOV 650 Yard Golf Rangefinder Review
This product is great at handling its basic task. When it comes to the subject of rangefinders, people still don't count on Shenzhen Lvyouyou Technology Company. But, they are establishing themselves slowly and steadily in this field. Boblov 650 rangefinder is their main weapon.
The Boblov LF 600 AG rangefinder is actually the premium version of the standard LF 600. Although it is pretty new in this industry, it has already challenged the biggies and given them a run for the money. The performance, design, quality, features, etc, everything is up to the mark. The most significant advantage is that it can find out the pin and give the correct measurements within just 1 second to the nearest pantile.
Features Of The BOBLOV 650 Yard Golf Rangefinder
The Boblov 650 Yard Golf Rangefinder is full of high-quality features. Another thing is the whole product comes in an affordable range. Let's check out –
The design of the product is astonishing. You will surely be mesmerized by seeing it. It comes with a full glowing white appearance. This is the reason it is suited for golf. When the flag distance is locked, the rangefinder starts to vibrate. Moreover, you can turn off this feature if you think you don't need it.
Boblov LF 600 AG rangefinder is super lightweight and portable. You can grip it in your hand easily. The truth is it is much lighter than most of the products available on the market.
When it comes to the matter of accuracy, it is unmatchable. According to Boblov, the slope distance is accurate to 1 yard +/1 up to 200 yards. They also claimed that is more than enough for 99% of the ranges. After getting the information, we've also tested the accuracy with another rangefinder. What can we say?!
We've just astonished to see the result. They were 1-2 yards of each in maximum times. Besides, they were just exceeded 3 yards at the highest 2 or 3 times. This was certainly an eye-raising matter at all.
The eye lens of this rangefinder comes with a 6x magnification built-in. Magnification x objective is 6x 22mm. It contains a small but super-bright LCD screen. This is such a big thing for a professional golfer. Due to its higher magnification, it can fully give its focus on the intended target and supply the distance.
The Boblov operates in a 3.8 volt Lithium battery. It can be charged with a mini USB cable. Additionally, the battery of the device is eco-friendly. And, you don't have to think to change the battery of the device.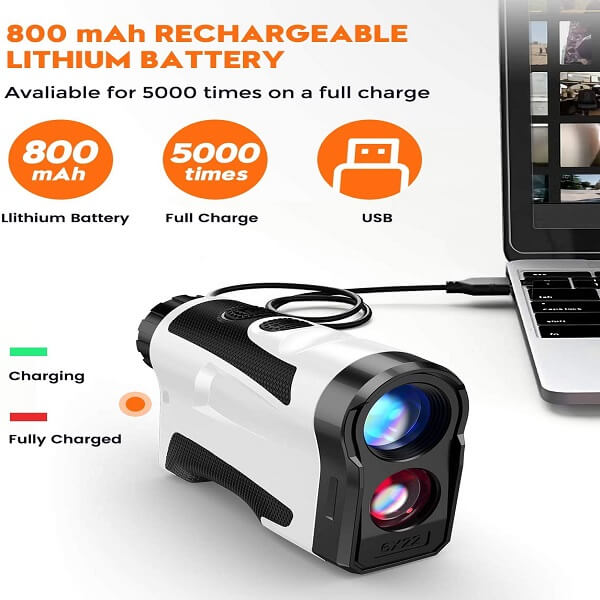 The Boblov has a slope function. It can be switched off at any time you want. One thing is the slope is not acceptable in a professional competition. You can only use it in practicing golf. By turning off the switch, you can make the tournament legal!
Nowadays, most premium rangefinders possess slope functions. However, the speed measurement function is not always available. The BOBLOV 650 rangefinder has uniqueness in this. It can measure the speed of moving objects. As a result, you can quickly think clearly about your shot plans.
You'll get vibration technology with this product. This tech, along with pin acquisition technology, makes it easy for you to measure the yardage. This will help you immensely in the golf game.
Pin Acquisition Technology
The manufacturer of Boblov instigates its pin acquisition technology in this rangefinder. That's why the speed of this product is massive. You can lock the pin through the laser in 1 nanosecond. Hence, this is a great feature indeed and it assists in speeding up the game.
Another thing is Boblov 650 rangefinder comes with a two-month refund and a 1-year warranty. If you find any quality problem, the product's manufacturer will provide you with a new one or refund the money.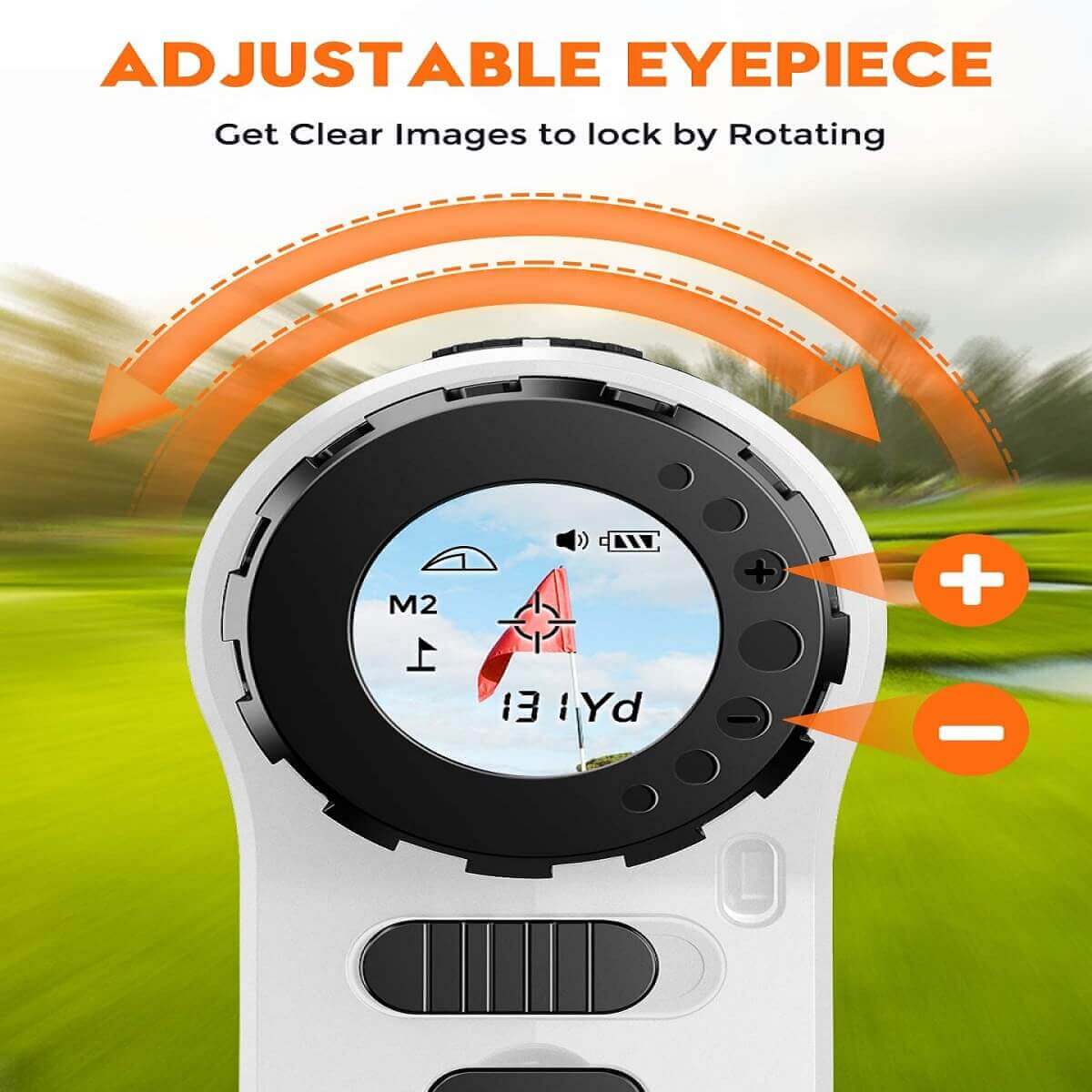 Buying Guide Before Purchasing a Rangefinder
Before purchasing a rangefinder, it would be the best decision to check out some factors. Let's take a look at the factors –
GPS
Just think about the testing distance measuring devices. It is no secret that premium rangefinders have supremacy over accuracy and functionality. However, GPS or rangefinder is only needed if you think it will be good for you to get the perfect precision. Moreover, it can assist you in lowering score.
Weight
Before the final decision, you have to think about the weight of the product. If you have to carry the clubs, you will surely expect to buy the lightweight product. The product we reviewed here is super light.
Accuracy
Different devices possess different accuracy. Not every device has the same level of accuracy. The premium devices have the accuracy nearest 0.1 yards. You have to check out the specs before making a final decision.
Magnification
Magnification assists in increasing the speed of yardage readings. Most premium level rangefinder contains higher magnification.
Pinseeker Technology
This is undoubtedly one of the best techs for a rangefinder in modern times. Pinseeker tech is the main conductor behind the enhance the pace of play. But, there's no way you can find out the target through the device. It will take a considerable amount of time. Nevertheless, pinseeker technology can solve this problem.
Budget
You will find both cheaper or expensive products on the market. Right now, you'll get quality products in a more affordable option. Therefore, our suggestion is that you should set a budget, closely look at the specifications, and decide.
The BOBLOV 650 Yard Golf Rangefinder Review – PROS and CONS
Here are the pros and cons of the BOBLOV 650 Yard Golf Rangefinder. Check it out –
PROS
It works so fast
The design is so beautiful
It is lightweight, portable, and easy to use
Price is affordable
It comes with a carrying case. Therefore, you can take it anywhere with ease. It also increases the standard level of the product
Rechargeable battery. The battery system is eco-friendly
The manufacturer of the rangefinder will provide you 1-year-warranty
Have fantastic accuracy. Magnification x objective is 6x 22mm.
Slope mode available
Great value for a quality product
Fast flag lock
CONS
It is pretty problematic to use in bad weather conditions
Slope mode only appropriate to within 3-yards of the actual distance
The screen could give difficulties. As a result, you could get into a deep problem when reading it.
Some technical specifications of The BOBLOV 650 Yard Golf Rangefinder –
Range: 6.6~656(yd) for LF600AG
Slope: On/Off optional
Vibration: Supported
Range Measuring Accuracy: +/- 1Yard with 200yards, 0.4% out of 200yards
Measuring Range of Speed: 20~300km/h
Laser type: 905nm (Class 1 laser)
Magnification: 6X
Battery: build-in lithium battery3.7V/800mAh
Weight: 168g/5.9oz
Click HERE & Check Today's Price On Amazon
Who can use the product?
If you are a beginner or not a high-level professional, then this rangefinder will be perfect for you. Let's see an example – suppose, you have owned an expensive rangefinder. But, somehow, you lost it. Now, you need another in an affordable price range.
In such a case, you could buy this without a second think. On the other hand, you just begin your journey in a golf game. Now, you need an excellent rangefinder at a cheaper rate. You can go for that. We can assure you won't be disappointed by the performance of The BOBLOV 650 Yard Golf Rangefinder.
What about our recommendation?
Well, if you seek out the recommendation from us, we will suggest the product without a doubt. The Boblov is such a high-class rangefinder at a reasonable price. It offers good quality along with various fantastic features.
Hence, the performance will leave you speechless. You will get a good value for your hard-earned money.
Conclusion
The most important thing is that you can get quality products within a short range of price. Although, it is clear that the Boblov rangefinder has some faults but it is still a high-class product within an affordable limit. Most features available in the product are very costly.
Thanks to the Shenzhen Lvyouyou Technology Company, you have got to get the product with premium features at a reasonable price. So, what do you think about our review on BOBLOV 650 Yard Golf Rangefinder? Do you find that helpful? If you have any opinion, feel free to share it in the comment box below. Thanks for reading and staying well.
Last update on 2023-12-02 / Affiliate links / Images from Amazon Product Advertising API