Whether you're a seasoned golfer or a beginner, CaddyTek has your golfing needs to be covered. Launching in February 2019, the CaddyTek Explorer V8 4-Wheel Golf Push Cart is the latest addition to their golf collection. This CaddyTek golf push cart is designed for professional and amateur golfers looking for a high-quality pushcart with advanced features. If you're ready to find out more about this new golf push cart, read on!
The pushcart is lightweight and made of durable material. It has ample storage space that can hold all your gear. The front-wheel swivels 180 degrees, allowing you to maneuver easily in any direction. Use this CaddyTek golf push cart on challenging terrains. It has a sturdy construction that provides comfort and stability.
Let's have a brief look at some of CaddyTek Explorer V8 features & Review:
Proper Design
The golf push cart includes everything needed for a perfect day of golf. This 4-wheel pushcart is not cheap, but it's not overpriced either. The CaddyTek golf push cart is well-made, durable, and the design is excellent. There are additional features that make this product valuable and convenient.
Adjustable Handle
This model has a button that releases the handle and clicks shut. That's an intelligent feature for carrying the cart up or downstairs or for those with mobility issues. In addition, the cart itself collapses to become very compact and easy to store when not in use.
Adjustable Strap:
I like the ease of use and the quality of the product. The bungee cords are not that great if you need to secure them more tightly; I probably would have preferred longer Elasticsearch straps. The lower and upper straps are great because they have no clips or buckles, making them easier to adjust with excellent balance. You can attach them to your preferred sides; the adjustable ones are included in the package.
Cell Phone Holder
This to-go umbrella holder and scorecard holder combo is an excellent choice for any golfer. Your scorecards will always be handy, and your beverage of choice will always be within reach. The umbrella can easily hold your cell phone to keep you connected to score and distance. The cold drink holder is sturdy and fits most sizes of drinks. Best of all, it's in a less than 300 dollar price range!
Smooth-rolling ball-bearing wheels
CaddyTek's 4-wheeled golf cart is great for golfers who want to carry their bags in style. The adjustable width front wheels allow you to adjust the cart to fit your bag, and a wrench is included to align the wheels. CaddyTek's push carts are lightweight and easy to operate, and they're ideal for backcountry exploring and golfing.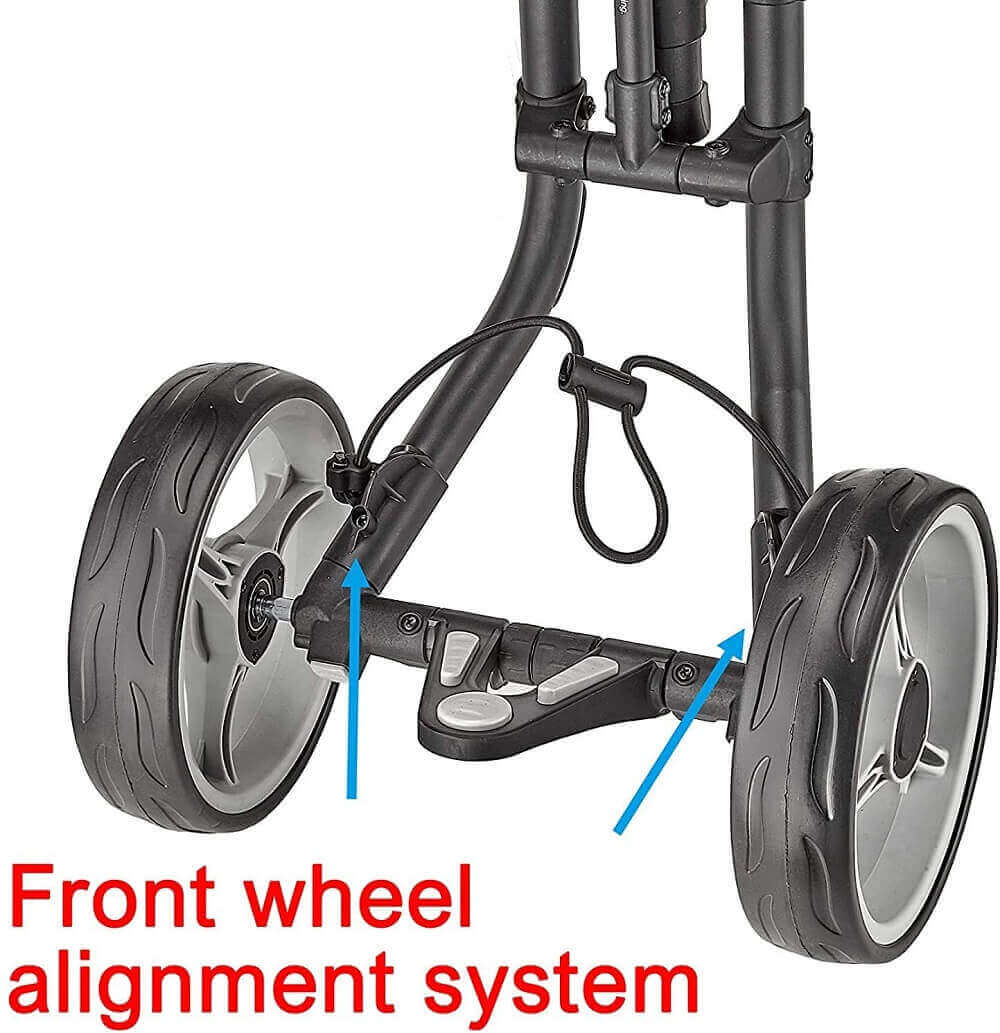 Click HERE & Check Today's Price On Amazon
This model is ideal for all kinds of terrain, including rough terrain. It's easy to push around. It has a high-quality aluminum frame and heavy-duty wheels, which make it excellent for rough terrain.
Quick Storage
A cool pouch is included with our golf storage accessory, which features multiple compartments for storing tees, golf balls, ball markers, and more. The cart is easy on the eyes and very compact, and you can fold it up against the wall when not in use. It's a breeze to open and close, and you don't have to lift a heavy bag off of your shoulder!
Check Today's Price On Amazon
Foot brake
The foot brake is a great way to ease into golf training. It's a great alternative for adults who aren't used to the push or pull of most golf carts. The foot brake is incredibly easy to use, and it truly makes a huge difference in how quickly you can get up and downhill. When you test drive the Foot Brake, you'll soon find out that the foot brake works better than any other type of braking mechanism.
Assembly
The setting up process of this model is not complicated at all. On the contrary, it's simple and easy – but with confused instructions, and no previous training video to guide users, one can easily lose them in the process. But once you gain a basic understanding of how each piece goes together, assembly is a breeze.
Easy to move:
This golf cart is very stable, moves without any problems, and is easy to push. The two-step rise and fall feature allows the front of the golf cart to lift to clear obstacles. It's an extra feature when you need to pull over to the side of the tee box. The back compartment holds my golf bag comfortably. Overall, this is a great golf cart to get around the course.
Pros:
Compact size and excellent wheel design
Perfect balance with rubber grip
The folding mechanism is up to the mark.
Ergonomic handle and strong aluminum frame
Larger zipper pockets
An ideal model for any types of terrain
Tee holder with storage
Cons:
Rear-wheel alignment is uncomfortable.
Made in China
The upper bag holder doesn't hold properly.
Too heavy for a woman to turn it from left to right
Watch a Video of CaddyTek Explorer V8 Golf Push Cart Review
FREQUENTLY ASKED QUESTIONS (FAQS)
CaddyTek Explorer V8 is a 4-wheel trendy push golf cart. It has been around for years and has a massive customer base. At this point, we will answer some of the most frequently asked questions on CaddyTek Explorer V8 on different topics.
Which model would you want for the same price, a three-wheeler or a four-wheeler?
I would pick the four wheels because it's more stable than a three-wheel. A swivel option would be best, but a three-wheel would do just fine if you can't find one. It's also lighter and easier to handle than a four-wheel. The four wheels have a better balance for uneven terrain, so it's the best type of wheel for hiking heavy packs across rough terrain.
Is it possible to fold while the umbrella holder is still attached?
As you can see in the video, the umbrella holder is attached to the golf cart. That makes the cart and umbrella easily portable. In addition, the umbrella holder can be installed by simply unscrewing the existing holder from the handle, attaching the new one to the handle, and re-screwing it into place. It's super easy and a total breeze to operate!
Does the front wheel swivel?
The front wheels allow the user to nip the position left or right. The wheels will assist the golfer in widening, narrowing, or raising the cart's height to fit the bag.
Is this model generally metal or low-priced plastic?
The frame is made of metal, and there are plastic parts as well. The cart is constructed from quality materials, and it's a high-quality product. If you're looking for a quality product at a great price, this is it!
Is this a one-fold model, or do the wheels need to be disassembled?
This model is a compact foldable golf pushcart. When you fold it up, the wheels remain attached, and it folds into a small size for storage. Folding the top & middle parts down allows for easy storage. The wheels are not removed from this item when it is folded up.
Final Words:
The CaddyTek Superlite Explorer V8 golf 4-wheel push cart is a high-end golf push cart that is durable, stylish, and convenient. In addition, the CaddyTek Explorer V8 comes with a rain cover for protection against the elements.
This 4-wheel push golf trolley has a water bottle holder, a storage compartment, and a canopy with a zippered coat pocket. The top is attached to the cart with D-rings and can be taken off and used as a seat.
Last update on 2023-12-02 / Affiliate links / Images from Amazon Product Advertising API