Many golfers prefer golf to other sports for the physical exercise and stress relief it can provide. Nonetheless, it can be frustrating and annoying to carry all of your golfing equipment around your golf course for 18 holes.
There are three ways you can save yourself from this ordeal. Either you use a motorized golf cart, carry your equipment and walk all the way, or use a push cart. Not all have access to golf carts and walking is a no-brainer already. That leaves us with the push cart, which is the best option out of all three.
A golf push cart will help you navigate the course more easily and quickly, but you still get the exercise that comes with walking. Besides not carrying a heavy bag down your shoulder, you'll be less at risk of damaging your posture. Your performance also gets improved as there's a reduced chance of fatigue during rounds.
There are a few points you should look out for if you are looking for the best golf push carts. A cart that is durable, easy to push, lightweight, and can carry and secure your bag with items like cell phone, umbrella, scorecard, and a drink.
Here we have put together our golf push carts reviews to help you decide which the best push carts for golf is for you.
Quick Look at the Best Golf Push Carts
Short on time? Here's a quick roundup of our top 3 picks & why you need them!
Table could not be displayed.
10 Best Golf Push Carts Reviewed & Analyzed
In this section, we reviewed 10 of the best golf push carts for you. What are these? Let's see the list:
Comparison Table Of Best Golf Push Carts
If you do not have enough time to check all the reviews separately, here is a shortlist that shows all our top winners that were worth adding when it comes to the best push carts for golf. They are not in any particular order. We tried to include the best budget golf push carts, the best electric golf push carts and the best walking golf carts.
| | | | | | | | |
| --- | --- | --- | --- | --- | --- | --- | --- |
| | | | | | | | |
| | | | | | Aircraft-Grade, Scratch-Resistant, Aluminum Tubing | | Charcoal/Black, Silver/Black, Arctic/White, Charcoal/Orange, Charcoal/Lime, Blue/Blue, Lime/Lime, Orange/Orange |
| | | | | | | | Black, Silver, White, Mint, Peach |
| | | | | | | | Black, Green, Dark Grey, Red |
| | | | | | | | |
| | | | | Handle Mounted Parking Brake | Weather Resistant, Aluminum Tubing | | Battleship Gray/Lime, Battleship Gray/Orange, Battleship Gray/Pink, Black/Yellow, Matte Black/Red, Navy/Red, White/Yellow |
| | | | | Handle Mounted Parking Brake | Weather Resistant, Aluminum Tubing | | Battleship Grey/Lime, Battleship Grey/Pink, Black/Black, Black/Red, Graphite/Black, Navy/Red, Silver/Black, White/Cobalt |
| | | | | | High Tech Aluminum, Stainless Steel | | Space Silver, Matte Black, Glossy White |
| | | | | | | | White/Green, Black/Red, Black/Green, Black/Blue |
| | | | | | | | Charcoal/Black, White/Red, White/White, Charcoal/Blue |
| | | | | | | | |
Clicgear Model 3.5+ Golf Push Cart Review
One of the best push carts for golf, the Clicgear Model 3.5+ push cart is popular with every golfer. This flagship model from Clicgear is dabbed as the original compact push cart; as it is sturdy enough to be supportive, but still lightweight enough for easy, effective pushing.
The Clicgear 3.5+ push cart has an ergonomic and dynamic design. The unique compact design allows the cart to fold down to a small 13" x 15" x 24" size. Even though weighing only 18 pounds, the body is manufactured with scratch-resistant aluminum tubing for strength and durability.
Key Features Of Clicgear Model 3.5+ Golf Push Cart
Easy To Use
The patented slide-to-close mechanism ensures you can quickly and effortlessly open and close the cart. The Clicgear 3.5+ push cart accommodates all bag sizes as the easy-clip bag straps are designed to be adjusted and keep your bag secure. Clicgear has provided a folding and unfolding technique video made available on its website. So even if you're having trouble folding down the cart (which is unlikely), you can just check the video.
Check Today's Price On Amazon
Hand Brake
The built-in hand brake system prevents the cart from rolling away when parked. The comfort grip handle has been recently redesigned to minimize cable wear so that it won't irritate your hands. You won't need to worry about hand break-downs wearing down and regularly pushing around the cart without pain.
Durable Materials
The Model 3.5+ golf push cart is manufactured from heavy-duty yet lightweight aluminum tubing. It's aircraft-grade, scratch-resistant, and weatherproof aluminum materials. Also, the airless tires hardly pop put and need little to no maintenance throughout the years.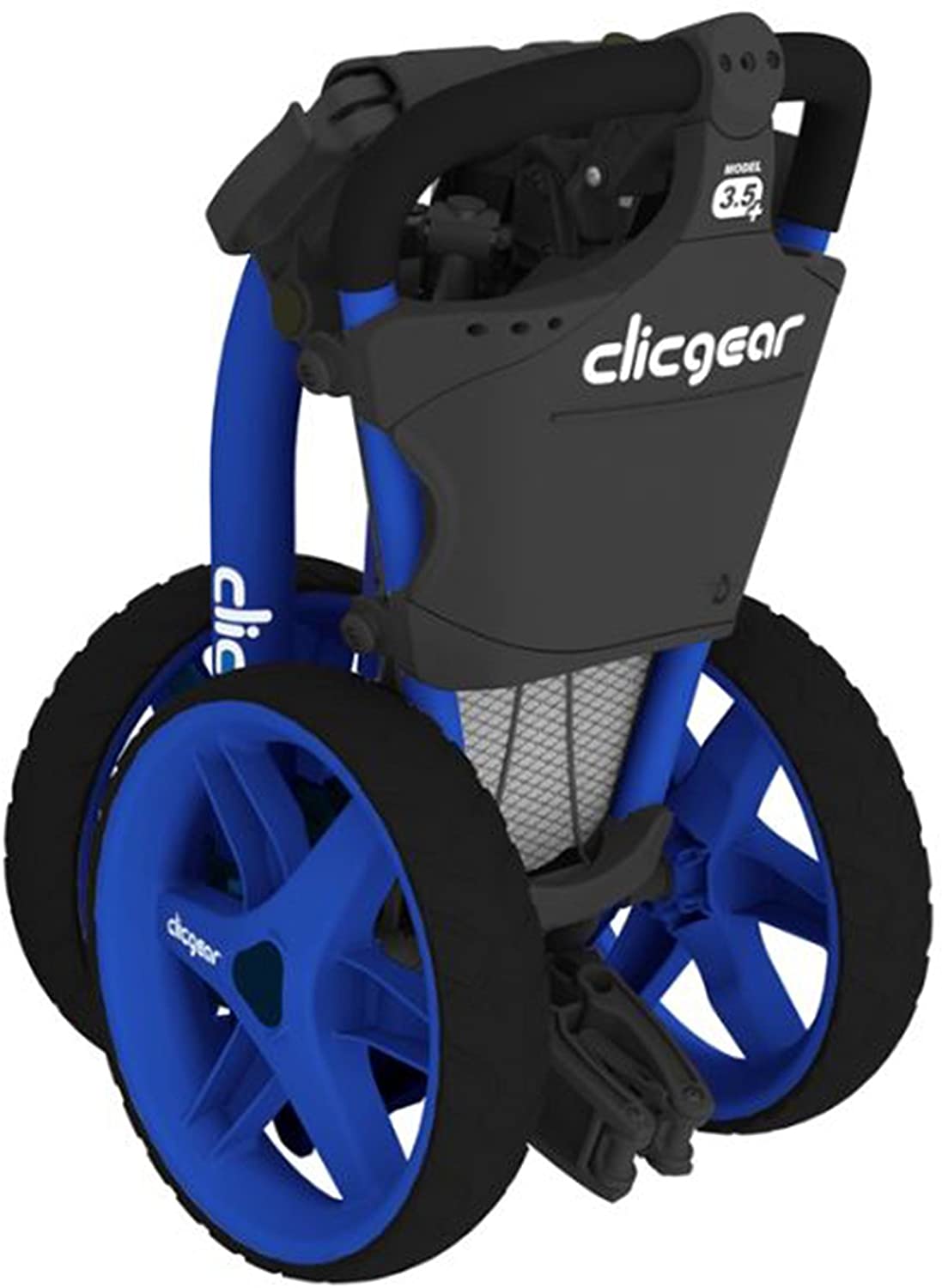 Click HERE & Check Today's Price On Amazon
Full Console and Accessories
The Clicgear 3.5+ golf push cart features extra storage options, including a storage net and a full console near the handle. The console has the built-in ball, pencil, and tee holders, and there you can store items needed on the course. It also is a scorecard holder, flexible cup holder, and umbrella holder. There are already a significant number of accessories included with the cart, but you can also purchase additional ones. Seat, XL cup holder, steering knob, cooler bag, sand bottle, umbrella angle adjuster, etc. are some of the extra add-ons you can buy and equip your cart with.
Pros
Extremely stable and effortless maneuvering on all types of terrain
Handbrake for locking cart in place and handle for adjusting the height
Slide-to-close mechanism for easy storage and transportation
All key accessories with the option to purchase additional ones
8 different colors and customization features available
Cons
A bit bulkier when folded up compared to other models
It doesn't matter if you are a pro or a newbie golfer, the Clicgear Model 3.5+ golf push cart won't disappoint you, certainly. This well-constructed and highly recommended push cart is an excellent value for money as well.
Clicgear Rovic RV1S Swivel Push Cart Review
Another high-quality product from Clicgear, the Clicgear Rovic RV1S Swivel Push Cart is one of the best compact golf carts currently on the market. It's the best option if you want excellent maneuverability and mobility for your cart on the golf course.
The Clicgear Rovic RV1S Push Cart is an upgraded version of their model, the RV1C. This three-wheeler cart comes with one swiveling front wheel and two rear wheels with a 24″ frame. The whole body collapses down to a compact size of 13" x 15" x 24" and weighs only 17 lbs.
Key Features Of Clicgear Rovic RV1S Swivel Push Cart
Maximum Mobility
The swiveling front wheel of the RV1S gives it unparalleled control compared to other similar models. With a full 360-degree rotation, you can navigate the course effortlessly regardless of how twisty or bumpy it is. There's also a swivel wheel lock for better control. While going across a straight way, just lock the front wheel and keep going all the way.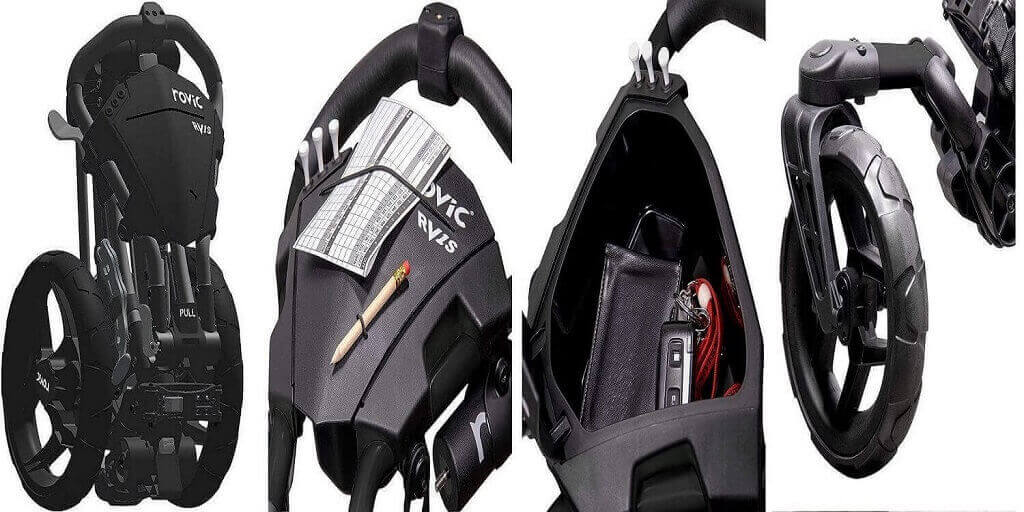 Check Today's Price On Amazon
Secure Parking
Along with ultimate maneuverability, the Clicgear Rovic RV1S push cart also comes with a foot brake for better stability. Using the brake, you can put the cart away for secure parking. The lock fold button will help you expand or retract the cart quickly.
Storage Console
This Rovic push cart has a full-size storage console compartment in both the interior and exterior of the cart. The exterior storage console is specifically designed to hold your scorecard, pencil, and tees. And the interior will keep your valuables such as wallets, keys, watches, or GPS safe from theft and the elements.
Durable Construction
The RV1S golf push cart has a lightweight yet durable construction. Made with high-grade aluminum tubing, the body of the cart is strong and sturdy. Along with the maintenance-free airless tires, you can rest assured this cart will last a long time.
Accessory Tabs
This cart comes with a couple of innovative accessory holders. Featuring the usual accessories such as cup holder, umbrella holder and bag, and ball clip, RV1S also includes a watch mount, pockets, and even a guiding handlebar. Designed in 2022, the new and improved silicone bag straps are easily adjustable and provide a secure grip to accommodate any size of bags.
Pros
Lightweight design with simple mobility and steadiness
Easy to assemble and quick collapse
Wide tires and swiveling front wheels provide great support.
Expanded storage for small miscellaneous items
Up to four colors available for purchase
Cons
A little pricey compared to others
The Clicgear Rovic RV1S Swivel Push Cart is not only light, streamlined, and dynamic; it also comes with many distinguishable features and accessories.
CaddyTek Superlite Explorer V8 Review
CaddyTek Superlite Explorer V8 is one of the most dependable four-wheeler golf carts currently out there. Version 8 is packed with even more brilliant features than previous versions.
The CaddyTek 4 Wheel Push Cart is designed to last long with a strong aluminum frame. Despite having a 25.5″ full body with large 11.5″ rear and 10.5″ front maintenance and air-free tires, the push cart weights less than 15 lbs only.
Key Features Of CaddyTek Superlite Explorer V8 Cart
Adjustable Positions
The built-in adjustable handle and foot braking system allow for convenient multiple pushing positions. Thanks to the efficient design, you are sure to have an enjoyable experience smoothly pushing the cart.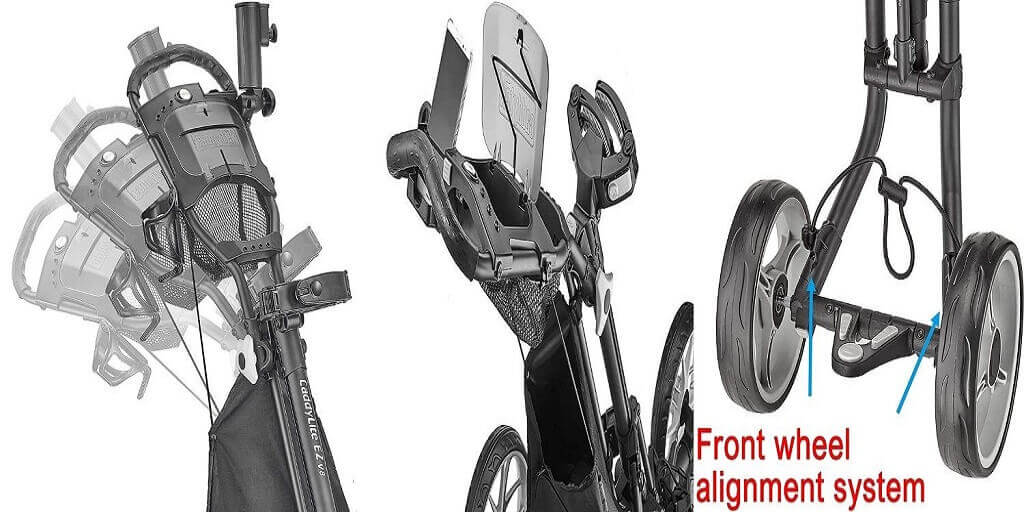 Check Today's Price On Amazon
Compact
The push cart has a patented simple 2-latched folding mechanism. This feature folds down the cart to a compact size. Because of this, you'll be able to fold down easily and set up the cart in no time.
Stable
The cushioned front and rear wheels can be adjusted and expanded from 11.5 inches to 12.5 inches to accommodate more or larger bags without risking the cart's stability. That way, you can maintain the balance and easily push down the cart on grassy, hilly terrain. It's one of the reasons the CaddyTek Explorer V8 is so popular with senior golfers.
Style
This CaddyTek 4 Wheel Push Cart offers a sleek, stylish design and comes with four different colors. Not only is it fashionable, but the cart is designed with a sturdy build as well.
Check Today's Price On Amazon
Accessories
It comes with many accessories, including an umbrella holder, a beverage holder, a scorecard holder, and a mesh net for balls and tees. So you'll be set for a hot, sunny day. You can also use the integrated storage compartment to put your cell phone, GPS, or other devices.
Pros
lightweight, portable and travel-friendly
Effortless pushing possible for all-terrain
Two huge storage spaces for equipment and cold beverages
Two-latch system for easy folding and set-up
Maintains perfect balance and traction
Cons
Unlocking brakes is more complicated than locking
The CaddyTek Superlite Explorer V8 will provide you with all the dependability and reliability the best walking golf carts can offer. So you can enjoy your game without any worries.
CaddyTek Superlite Deluxe Golf Push Cart Reviews
CaddyTek is a well-known brand within the golf industry, popular for its high-quality yet affordable golf carts. The CaddyTek Superlite Deluxe Golf Push Cart is their deluxe model, but you'd be astonished by how affordable it is.
As in the name super light, the CaddyTek Deluxe is exceptionally lightweight, weighing even less than 12.2 lbs. With two 11″ main rear tires and one 8″ front tire, the extended dimensions come up to 53.5″ x 27.2″ x 45.67″. But folded, it comes down to 17.5″ x 15.75″ x 33.6," which is suitable to fit in most car trunks.
Key Features Of CaddyTek Superlite Deluxe Golf Push Cart
Design
Despite being super lightweight, the CaddyTek Deluxe golf push cart has a very sturdy and stable frame. The wide-body design is perfect for effortless pushing. The cart can be folded up to a compact size with just a single click of a button, so it's very convenient for storage and transportation.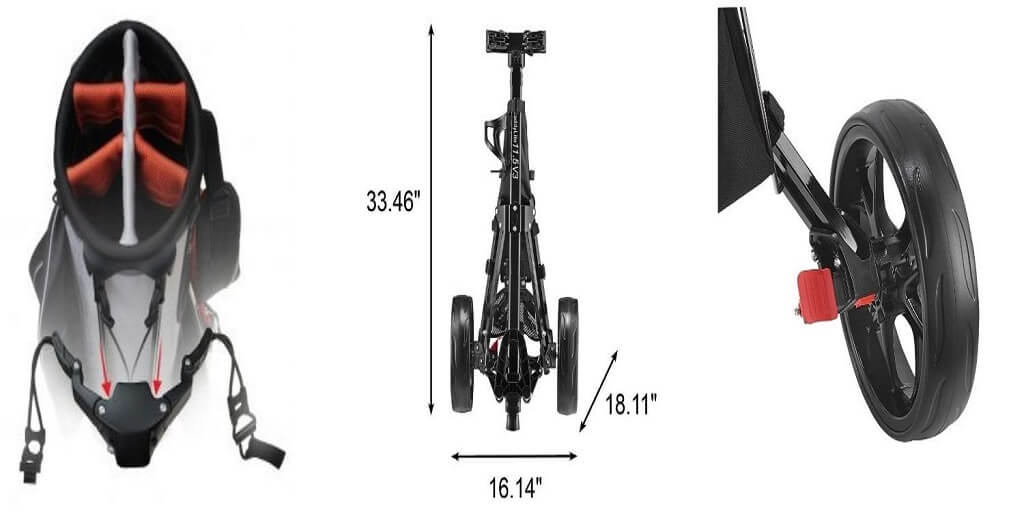 Check Today's Price On Amazon
Wheels
The three wheels are airless and maintenance-free tires, so they can last up to longer. With ball bearings and the front wheel alignment mechanism, the cart rolls smoothly and has perfect traction on all kinds of terrain.
Braking System
On the cart, there is a built-in quick and straightforward braking system; you can engage and disengage with just a single push. Just press to brake and press again to release the foot brake. You can adjust the padded handle to four different settings to serve different heights of any golfer.
Patented Bag Holder
Including the usual accessories like the carry-all bag, cup holder, cooler, mesh net, umbrella holder, and the insulated pouch, the cart comes with the patented bag holder design. The bag holder is designed to fit stand bags perfectly to keep your gear safe and secure on the course. Even when the cart is folded in size, the folded bag can be attached to the cart.
Check Today's Price On Amazon
Pros
Fully functional portable design
Built-in wheel alignment mechanism
Responsive, easy-to-use brake system
Mesh net for keeping storage items safe
Great value for money
Cons
Scorecard holders may be difficult to reach.
An outstanding, well-priced, and fully functional push cart – you'll hardly find a better value for money than the CaddyTek Superlite Deluxe Golf Push Carts.
BagBoy Quad XL Golf Cart Review
The BagBoy Quad XL Golf Cart is an ideal choice for golfers looking for an affordable option with innovative, high-quality features.
The Quad XL Golf Cart is a 4-wheeler golf push cart with two 9.5" front wheels and two 11.5" rear wheels. The cart folds down to a compact size of 24″ x 17″ x 16″ and weighs only 16 lbs.
Key Features Of BagBoy Quad XL Golf Cart
Superior Stability
Durable and oversized aluminum tube frames already make the cart less susceptible to rough terrain. The different sized wheels at the front and back offer a faster and more stable ride compatible with all-terrain. The larger rear wheels make it much easier to push through rough and uneven terrain. The four lightweight, solid, maintenance-free tires offer superior stability.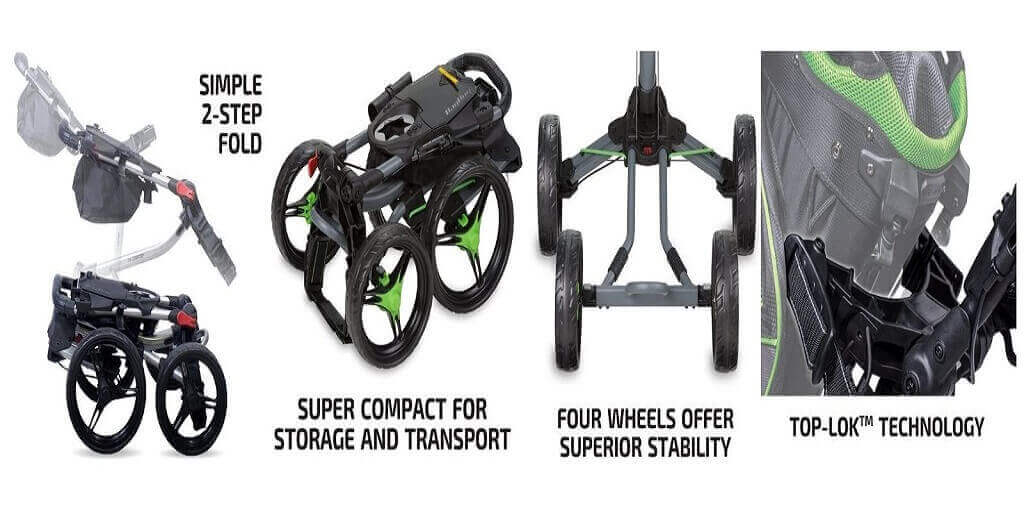 Check Today's Price On Amazon
Foldable design
The Quad XL comes with two-step folding technology that will fold up your cart in a matter of seconds. The folded size of the cart is compact enough for you to carry in the trunk of your car. Also, with the adjustable handle, you can change the height settings of the cart as per your convenience.
Added storage
The cart has a full-featured extra-deep scorecard console. There is space for a built-in beverage holder, mobile device holder, and golf ball, tees with an oversize storage bag. Also, the umbrella holder is integrated into a storage clip. You can keep your personal items like wallets, keys, etc. safe and secure without exposure.
Unique Top-Lok Technology
The Top-Lok technology guarantees an exclusive bag-to-cart attachment system. A bungee-style strap will keep your bag and clubs secure. Additionally, the Upper Bag Bracket provides extra security with adjustable support arms by locking the golf bag into place.
Check Today's Price On Amazon
Pros
Four wheels enhance stability
Hand-mounted parking brake
Oversized wheels provide traction and a smooth ride.
Travel-friendly two-step folding system
Adjustable support arms and handles
Cons
Braking systems often need adjustment.
The BagBoy Quad XL Golf Cart offers greater stability, with a robust, lightweight body. Overall it's an all-rounder choice for all golfers out there.
Bagboy Nitron Golf Push Cart Review
The most recent edition to the market of golf push carts, BagBoy introduced their new model, the Nitron Auto-Open Push Cart, in 2019. Right after debuting, it has attracted the attention of the golfers due to its updated features of modern technology.
With a 9.5" front and 11" rear wheels, this cart measures only 19" x 13.5" x 22" when it's folded up. Weighing 16.75 lbs, the BagBoy Nitron push cart is available in eight different color combinations.
Key Features Of Bagboy Nitron Golf Push Cart
Nitro-Piston technology
The cart is powered by nitrogen and will automatically open in seconds. The automatic mechanism has a secure two-step opening system. Just pulling the handle, the cart will expand itself and lock into place. The three-wheeled Nitron performed flawlessly on the course. There is a parking brake mounted on the handle, and the foam tires are maintenance-free plus require no air.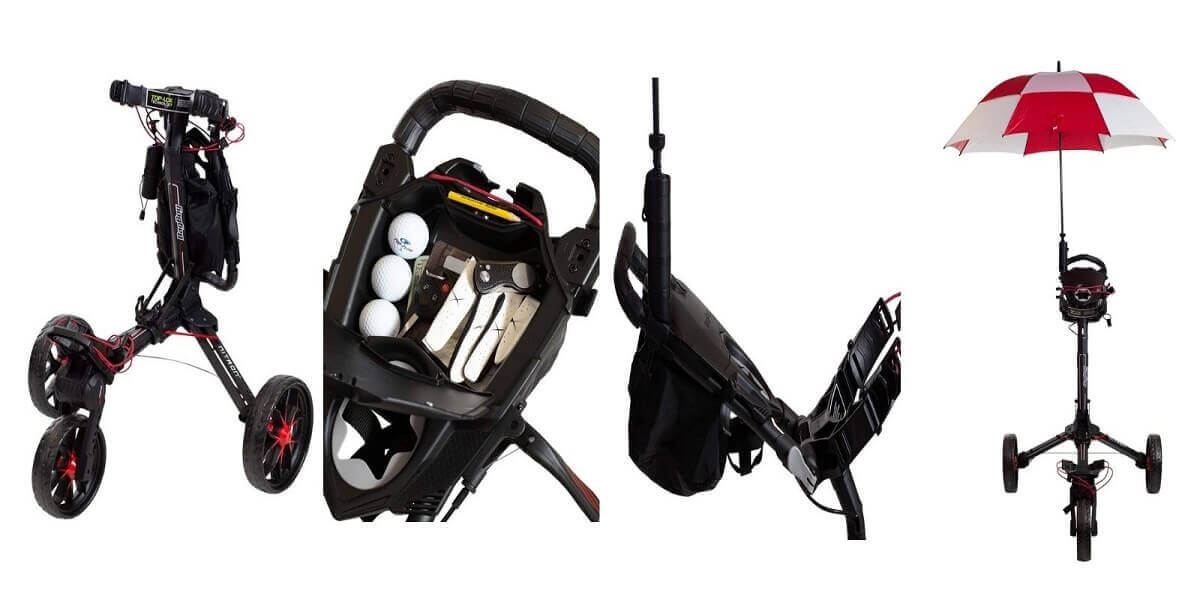 Check Today's Price On Amazon
Compact Fold Size
The compact profile of the Nitron is pretty convenient for storage and transport situations. It doesn't take time to fold or expand the cart. The assembly is easy enough that you won't need any tool for it.
Full-Featured Console
The BagBoy Nitron Push Cart is equipped with a full-featured scorecard console with an integrated beverage holder, mobile device holder, and golf ball storage. On the underside of the console, there is an accessory bag for additional storage. The umbrella holder is integrated with a storage console as well. The entire console-setup works exceptionally well, and there seems to be room for everything you will need.
Top-Lok Technology
The Top-Lok system is there for the bag to integrate with the cart. The bag is secured with two bungee straps that prevent the bag from twisting and turning while moving. That way, the bag, and its contents remain safe and damage-free.
Check Today's Price On Amazon
Pros
Push-button open with a nitrogen-powered opener
Extra-large accessory bag under scorecard console for storage
Full-feature scorecard console with integrated beverage holder
Integrated umbrella storage with storage and loop notch
Easy to collapse in less than 5 minutes
Cons
Wheels don't roll as well as some other models.
Considering the unmistakable quality with an exclusive bag-to-cart attachment system and the Nitro-Piston technology, the BagBoy Nitron Golf Push Cart will be a good value for your money.
Bat Caddy X3R Remote Control Cart Review
The Bat Caddy X3R is based on Bat-Caddy's X3 series and the 10th generation of their top product, so it has been improved to the point of near-perfection. No wonder, the Bat Caddy X3R Remote Control Cart is one of the best electric golf push carts currently on the market.
Bat-Caddy uses only high-grade aluminum and stainless steel for its key components, such as the frame, gearboxes, motor housings, and axles. The cart dimension when folded is 32" x 24.5" x 12". At 23 lbs, the cart weighs slightly heavier than other models; however, 6 lbs of weight comes from the battery.
Key Features Of Bat Caddy X3R Remote Control Cart
Power and performance
Powered by 2 x 200-watt motors, the Bat-Caddy X3R is powerful and efficient. It's been certified by ISO 900 and considered one of the best motorized golf push carts. It's also compatible with a standard powerful 35Ah sealed lead acid battery or with an ultra-light, long-lasting lithium battery. Even though you run out of battery power, you can push the caddy just like a manual push cart.
Check Today's Price On Amazon
Control
Having versatile control, you can move the cart via the remote control or by the manual handle. You can control the speed by operating the forward and backward controls, and navigation isn't that difficult as well. The wide range FCC-authorized remote control offers full control up to 90–100 yards.
Multi-Function Handle
All Bat-Caddy Carts handles are equipped with on/off buttons, manual rheostat speed control, cruise control function, and battery charge indicator. Besides, most models include a USB port and the timed distance-advance function. The adjustable handle design lets you adjust heights seamlessly to fit your preference.
Check Today's Price On Amazon
High quality and Innovative Accessories
The Bat Caddy X3R Cart comes with built-in accessories such as scorecard holder, umbrella holder, and beverage holder. But there are other accessories options you can add in, including a rain cover, carrying bag, sand dispenser bottle, and a GPS holder.
Pros
Durable and wishbone-shaped frame for improved stability
Lightweight and efficient battery options
Front-wheel tracking adjustment for better direction
Airless wheels with rubberized tread
Water-resistant cover to safeguard the control panel
Cons
The Bat Caddy X3R Cart is truly a great balance between functionality, performance, practicality, and value. If you can spare the money, you should definitely go for this cart.
Young Gun Kids Adjustable Golf Cart for Junior Review
The Young Gun Kids Adjustable Golf Cart is a three-wheeled cart that is a nice option for junior golfers. It's simplistic and easy-to-use mechanism makes it perfect for any child to preteen golfers.
The Junior golf cart is kitted out with nylon straps and has a standard steel frame. The cart weighs 7.5 lbs only and can be folded down to 12.5" x 15" x 31" size. The lightweight and compact foldable design makes storage and transportation a child's play.
Key Features Of Young Gun Kids Adjustable Golf Cart for Junior
Adjustable
This adjustable golf cart is designed for golfers from ages 3 to 14 years old. It features an adjustable frame that changes height depending on the height of the golfer using it. You can easily adjust the height by extending or contracting the handle. This feature is highly beneficial in the long run, as you can use the cart for all of your kids ranging from different ages.
Wheel Design
Your push cart should have sturdier, larger wheels to be more stable and avoid tripping over your child. Thankfully, this product comes with larger wheels that are airless and have a tread design that allows it to tackle various terrains. Also, wide-set wheels and incorporated ball bearings make for a smooth ride.
Check Today's Price On Amazon
Extra Features
This cart comes with a shoulder strap conveniently attached to it. Due to the lightweight design, your kid can easily carry the cart around. Also, the cart has a bracket that can accommodate junior golf bags. The ergonomic handle and the buckles are comfortable to engage as well, which makes it one of the best walking golf carts. Your kid can undoubtedly take care of their business in this cart.
Pros
Simple and lightweight product
Quick snap-lock buckles
Easy to adjust and lock into place
Convenient shoulder strap for added portability
Available in bright colors that kids will like
Cons
The handle is non-extendable.
The Young Gun Kids Adjustable Golf Cart may not have many high-tech features or accessories, but it's basic and simple design is suitable for young kids starting golf.
Qwik-Fold 3 Wheel Push Pull Golf Cart Review
The Qwik-Fold 3.0 Wheel Push Cart is another great example of a three-wheeler cart out there. It may not have too many flashy features and accessories, but it's the best choice in terms of solid construction and reliability.
This mid-level golf cart is less than 30″ in length, and easy to store due to its foldable compact size. Also, the lightweight aluminum build is super portable as it weighs less than even 15 lbs.
Key Features Of Qwik-Fold 3 Wheel Push Pull Golf Cart
Folding Capabilities
The best design of the Qwik-Fold 3 Wheel Push Cart is how easy it is to fold/unfold the cart. Thanks to its patented V-slide feature, you can fold or unfold it with just a push of a button. The folding/unfolding mechanism takes only 1 second to come about, and this is the fastest for any push carts. Just lift the handle, and the cart snaps into shape.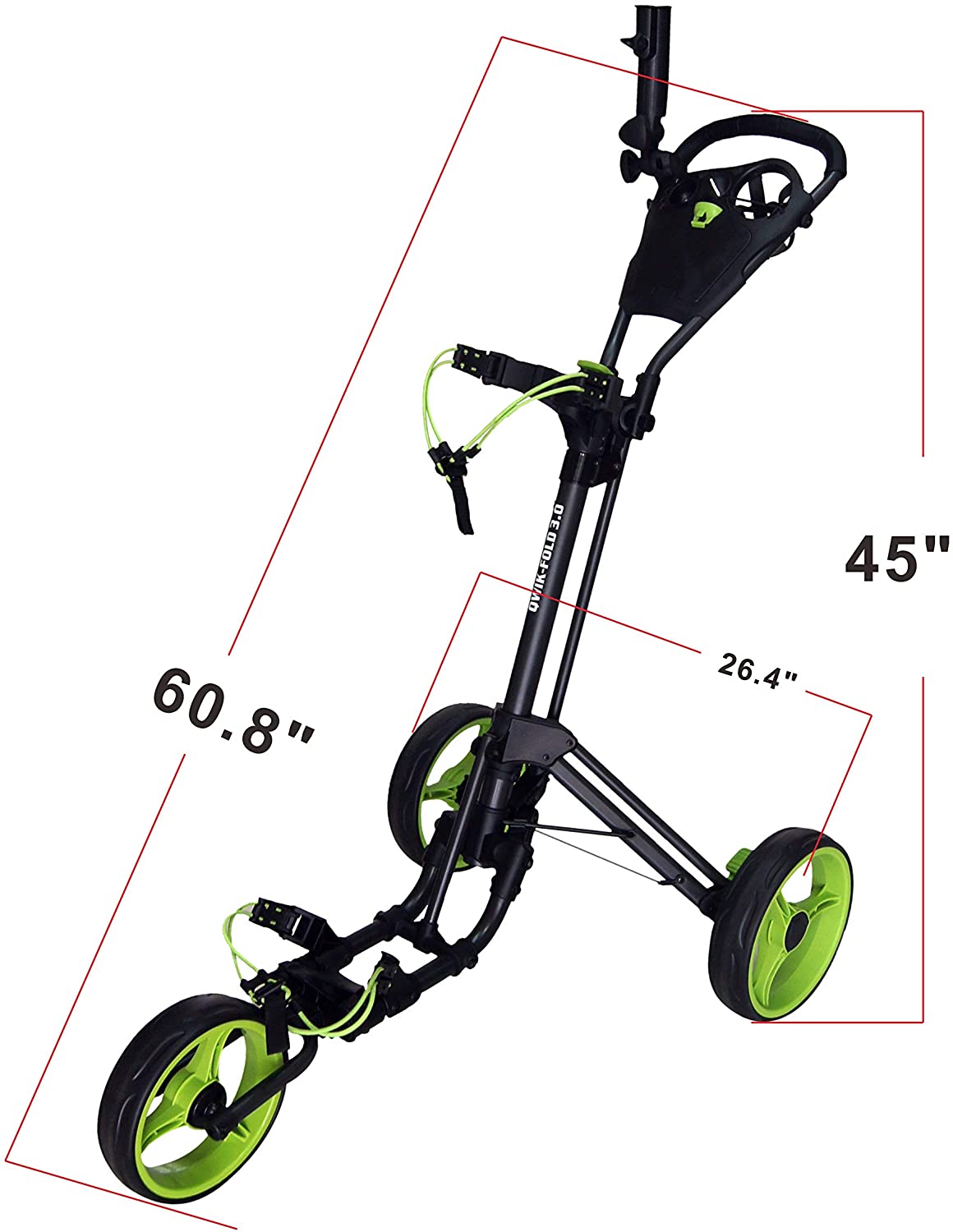 Adjustable Handle
As the handle is height adjustable, you don't need to bend or put a strain on your back regardless of how tall you are. This height-adjustable mechanism comes handy for family use as people with different heights can easily use it to their advantage. This feature, combined with a lightweight build, makes it a popular choice for junior golfers as well.
Smooth Ride
The Qwik-Fold 3 Wheel Push Pull Golf Cart features three ball-bearing wheels. Wheels with ball bearings ensure a smoother ride than regular wheels. Also, it's viable over all-terrain, meaning you can glide away from your cart smoothly across any course without a hitch.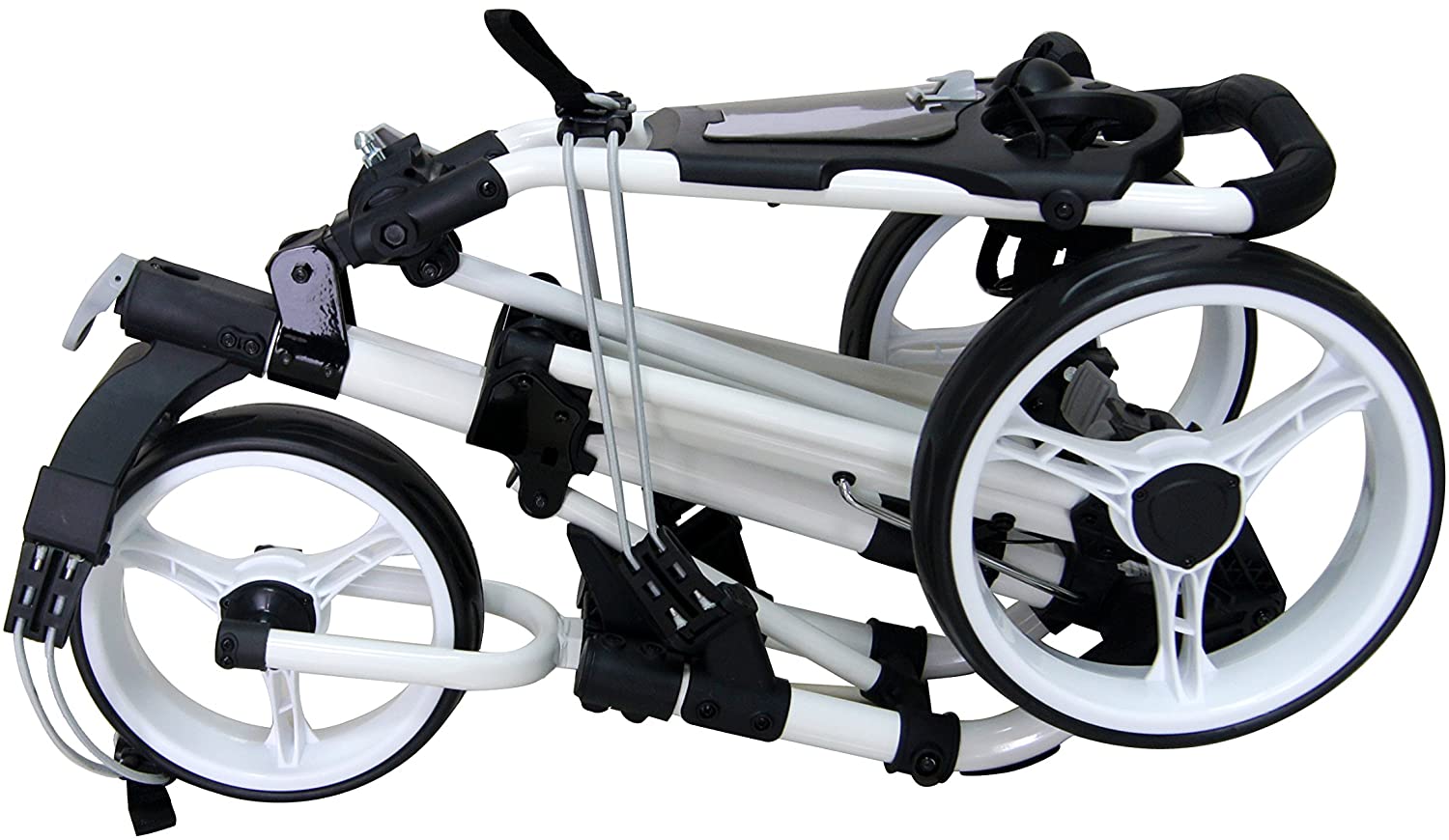 Check Today's Price On Amazon
Stability
This cart is a three-wheeler with an extra-wide base, which means providing extra stability. Also, all the three wheels have powerful tires and are fixed in place. The back wheels are 10″ in diameter, and the dual-wheel alignment system lets you adjust the distance between the wheels. The 9″ sized front wheel has a brake system that can be controlled from the handle.
Pros
Simple design with a comfortable handle grip
Detachable umbrella holder
Five unique and stylish color schemes
Excellent stability under heavyweight
Extremely compact to fit in storage spaces
Cons
The front-wheel does not swivel.
The Qwik-Fold 3-Wheel Push Pull Golf Cart is dependable, easy to push, and quick to fold, handles all-terrain well, and carries around the heaviest of bags. Plus, the affordable price doesn't hurt either.
Jef World Of Golf Deluxe Steel Golf Cart Review
The Jef World of Golf Deluxe Steel Golf Cart is a great option for golfers who want optimal action without much fanfare.
The push cart is made from heavy-duty steel, making it pretty tough. With a surprising weight of only 8 lbs, this cart is the lightest entry on our list. It has the dimension of 9" x 10" x 33.5" and easily folds in half for compact storage.
Key Features Of Jef World Of Golf Deluxe Steel Golf Cart
Easy Mobility
The lightweight yet sturdy cart has a steel body. Offering greater maneuverability, the cart is suitable to push around on all different terrains. You need to put minimal effort into pushing and pulling your cart on the golf courses.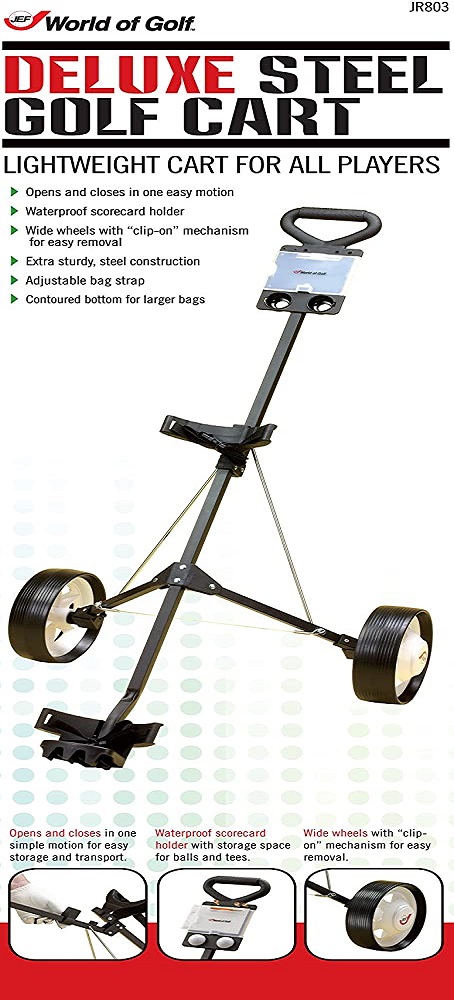 Wide Wheels
The Jef World of Golf Deluxe Steel cart has extra-wide wheels for enhanced stability. The large 12″ rear wheels help the cart move through all terrain, including dirt, grassy, sandy and hilly areas. There is also less chance of the cart topping over with all the bags.
Clip-On Mechanism
The Deluxe Golf Cart has a secure clip-on mechanism for easy removal. Thanks to the clip-on mechanism, it's super easy to assemble and disassemble in no time. The whole cart can be folded in half and fits in a suitcase with no trouble.
Contoured Bottom
This golf cart has a contoured bottom to accommodate large and small bags alike. It can carry huge and heavy bags due to the adjustable straps. You just need to strap in your bags, and they'll remain strapped and attached to your cart.
Check Today's Price On Amazon
Pros
Extra sturdy steel construction
Built-in waterproof scorecard holder
Opens and closes in one motion
Easy storage and accessibility
Great starter option for beginner golfers
Cons
No brakes or height adjustment available
If you don't want to invest much for a push cart or just a newbie golfer starting your journey, the Jef World of Golf Deluxe Steel Golf Cart is the most affordable option you are going to find at the moment.
What To Consider When Buying The Best Quality Golf Push Carts [Buyer's Guide]
If you are upgrading your push cart or buying a new one for a change, then you don't need much help in this regard. But if you're looking to buy the best golf push carts for the first time and don't know what to look for, you may need all the help you can get.
That's why we've made this guide, which can help you determine factors and features that are essential to look for in the best golf push carts. Your personal preference also plays a critical role in the decision for purchase. So, you should keep the information we provided and your preference both in mind to make an informed decision.
Wheels
One of the most significant factors is the number of wheels a push cart has. So, you need to make up your mind before buying whether you want a two, three, or four-wheeler push cart.
Two Wheeler Push Cart

This is more of a traditional cart and less common now. The trick is to pull the cart despite being a "push" cart, so lots of energy and flexibility needed to maneuver this type of cart. It's not much suitable for the uneven, rocky surface.

Three Wheeler Push Cart

It's shaped like a V with one wheel in the front and two in the back. It's much easier to steer and push down while walking through a hilly or elevated course.

Four Wheeler Push Cart

Even though it is a recent development, there are many carts with four wheels available presently. They offer smoother handling and stability but less chance of maneuverability.
The wheel size is another matter to ponder over as it affects the stability and balance of the cart. The wider and larger the wheels, the more stable the push cart will be. Smaller wheels make the cart compact and lightweight, but they'll be only good for flatter courses. Larger wheels make it easier to push the cart through any surface. Also, swiveling front wheels have better navigation power than fixed front wheels. Ball bearings in the wheel make it run smooth and airless. Foam tires are easier to maintain and have less chance of deflating.
Storage
Your golf cart should be able to carry and make all your essential pieces of equipment available. But the amount of gear and the amount of available space hardly equates for most push carts. Expanded storage is the answer to that problem.
A cheaper, basic model may not have any added storage option, but a high-end push cart has multiple additional pockets to put your extra stuff.
If you want to bring lots of snacks and beverages during your game, then a cart with a storage net will be ideal. Moreover, if the storage compartment is waterproof and lockable, then it's even more desirable. However, be cautious of the limit of your cart. Because putting too many supplies inside your cart can cause overload and instability. To ensure your push cart remains stable, just add some weight without it taking up too much of your energy.
Ease of Collapsibility
Imagine having to struggle to open and close your push cart every time you are on the golf course. Pushing your cart around the course is already long and tiring enough. An uncooperative cart makes the experience even more frustrating.
So, before purchasing your push cart, always make sure to choose the one that is easy to use. Most high-quality modern carts offer one or two-step folding mechanisms which take only minutes (sometimes just seconds) to fold or unfold. Just with the click of an automatic button, your cart will be ready to go. There are also many models that don't offer an automatic option. If the carts are easy to operate and don't get often jammed,, there's no harm choosing them despite lacking an automatic mechanism.
Size and Weight
Size and weight both directly factor into portability. Lightweight and compact sizes are two important factors to consider when you're assessing the merit of buying the push cart.
Golf equipment already takes up a huge amount of space, and a big cart is more burdensome to maintain. Your push cart should be folded down to a smaller size so that it can fit into your car while traveling to the golf course. Not everyone has a considerable space in their car or trunk to load up their cart inside, so a cart with compact size is much preferable. Also, the compact-sized cart will be much more convenient to store and not take up too much space.
The lighter the push cart, the better it is for storage and transport. However, being too lightweight can compromise the stability of the cart. It's especially fitting for carts made of plastic. Aluminum is a pretty strong material despite weighing very little. The cart needs to have the balance of being lightweight but sturdy. The ideal push cart's weight should be between 10 – 20 lbs.
The Braking System
You don't want your push cart to roll away and cause damage to your equipment, do you? On top of that, you'll lose time and energy chasing after your cart around the course. All of that won't be a problem if your cart has brakes.
Thankfully at present, all golf push carts have an in-built braking system. The most popular is the foot brake, and the second most popular system is the hand brake. The hand brake has the ability to be locked via the use of a push/pull method. To make sure your cart has strong and sturdy brakes, look for a reputable company or brake manufacturer. Also, try to park your cart on flatter surfaces if you can. Not engaging the brakes unnecessarily can extend their lifetime significantly.
Handle and User Comfort
As you'll be operating your cart through the handle and have the most contact with it, an ergonomic handle is the way to go. Pushing the cart up and down hills is already taxing enough. On top of that, if you need to twist and bend your wrist to keep your cart aligned, it'd be a painful experience indeed.
Therefore, flexible handles are always superior to fixed handles. Look for handles with adjustable height and brake control. Being able to modify the height of your cart, you won't need to bend or slouch every time you brake to stop. Also, handles with soft padding would cushion your grip and be more comfortable to use.
Stability
Most golf courses range from hilly to sand to flat surface. Basically, all types of terrain are out there, and you'll find some variety of it out on the golf course. Pushing your cart around the uneven and demanding terrain is a challenge itself. Already. Old two-wheeler carts used to tip over often on a side hill and sometimes even on the normal surface due to overweight.
Nowadays, the best walking golf carts come with three and four wheels for additional stability, and the increased number of wheels is a huge help already. These carts have wider wheelbases and proper weight distribution, so there's less chance of tipping over and damaging your equipment. Some push cart models also have a clip-in system with Velcro straps to lock bags in place inside the cart.
Maneuverability
As discussed in the previous segment, not all golf courses have the same surface, and some are challenging to maneuver. With a cart full of equipment, it won't be fast or easy for a smooth ride. Also, jostling and smacking into each other can cause damage to your clubs and other equipment. Because of this, you need to check your cart's maneuverability beforehand.
Four wheeler carts are less maneuverable compared to third wheeler ones, but these also offer smooth riding. Carts with fixed wheels can be harder to maneuver when going around a rough surface. For that, carts offering 360-degree front-wheel rotation is the best. Some features such as airless tires, shock system, the flexibility of the frame, etc. contribute more smoothness to the ride. Some carts come with an adjustable wheelbase, which is another plus for greater maneuverability.
Durability
If you want your cart to last for a long time, then durability is your primary concern. Your cart should be able to withstand the pressure of the conditions of the different courses. Flat, hilly, sandy soil – the terrain won't matter much for a durable push cart.
Some push carts are built more durable than others, and manufacturers often disclose the information about product materials. Carts made with plastic are bound to be lightweight, but there's less chance of stability and durability. The metal or composites frame will make the cart heavier but sturdier. Also, they won't need to be replaced frequently and waste money.
So, it's better to go for slightly expensive durable models rather than cheaper ones. In this way, you'll be saving more money in the future.
Additional Features and Accessories Of Best Golf Push Carts
Golfers are bound to have all their gear with them on the course all day. Nowadays, most golf carts come with lots of accessories and unique features compared to the previous models. Some manufacturers offer the ability to customize already existing accessories or adding new ones. Features like matching coolers, custom color options, pop out stools, etc. adds more enjoyment and luxury to the game.
Some of the basic accessories all the best golf push carts come with is:
Umbrella Holder
Rain or shine, you need to spend the whole day under the open sky, so having an umbrella is necessary. But carrying the umbrella around is not possible sometimes. That's when the umbrella holder will be handy to store it inside the cart.
Beverage Holders
It's a common practice to walk around the course and have a few drinks with your golf buddies. Even you need a bottle of water or two after pushing the cart around for hours. So what's a better place than the beverage holder to store all your drinks?
Storage Space
Some carts have storage space for putting a scorecard. You can also use this space for keeping your personal items safe. Such as your cell phone, GPS, other electronic devices, etc.
Shade Attachments
It'll save you from a heat stroke on a hot day playing golf. Many carts come with this option, and it not only provides shade but prevents you from suffering fatigue as well.
Kit Bags
A bag to contain all your equipment such as ball cleaners, club head cloths, and head covers is a great perk to have. You'll also get more storage space in the cart. In case of emergencies, you should keep some first aid kit close at hand as well.
Having all these additional accessories is very convenient and all, but remember not to have too many of these features. Adding more and more features will just end up in making the cart overweight. Then you'll have a hard time keeping balance and pushing the cart on uneven ground. So keep the features to get the most out of your cart without it being a burden.
Benefits of Buying the Best Push Carts For Golf
Exercise
Pushing golf carts is a very popular and effective way to exercise and to stay fit nowadays. It strengthens your muscles and helps to burn off excess fat and calories. Also, pushing carts can facilitate back pains. Overall, it's a great way to keep healthy and fit while enjoying a game you love.
Focusing Energy
If you spend all your energy on carrying the bag and cause strain to your back and legs, it'll sure affect your game. You need all the energy to boost up your performance in the game. Pushing a golf cart can save your strength and help you focus more on the game. Eliminating fatigue will automatically make you refreshed and ready for the day.
Safety
Lugging your clubs for a more extended period of time is highly stressful and straining for your body. Many golf-related injuries happen from players becoming off-balance or throwing out their back in the process. As it places a significant amount of compressive force around your spine, carrying your golf bag all the time can be a major cause of permanent spinal issues.
In that case, pushing golf carts is more beneficial for safety and injury prevention than carrying your golf bag yourself.
Storage Space
Modern golf games don't require only clubs as the necessary equipment to play. The number of large and heavy stuff you need to carry around with you all the time is astonishing. The enormous golf bags, heavy golf sticks, scorecards, umbrella, beverages, etc. are all the essentials you need for a hot day.
Push carts are better at providing more storage for your personal items. Besides, most push carts are equipped with GPS devices and cell phones so that you can have immediate access to the designated areas.
Convenience
Having a push cart means having all your golfing equipment at hand, which is a huge advantage. You can have more energy and time to concentrate on your game later. Also, you'll be able to move around the courses faster and enjoy the time with your friends.
Frequently Asked Questions (FAQ'S)
Is carrying your golf bag bad for you?
Answer: Carrying your golf bag is bad for your health, and it affects your game performance as well. Carrying heavy equipment puts too much stress on the body, compromises posture, and weakens core strength. Carrying a golf bag encourages poor body alignment, which is harmful to your general health.
Which is a better push or pull golf cart?
Answer: Even though both have their advantages, pushing a golf cart is easier and less work than pulling it. The common difference between push and pull carts is the number of wheels. Typically, pull carts have two wheels, but push carts have three, sometimes, four-wheel options.
Does it matter how many wheels a push cart should have?
Answer: Generally, push carts come with three-wheel or four-wheel models. There isn't much difference except the level of stability and smoothness – instead, the reason you'll be using your push cart for matters more. Three-wheel carts are easier to maneuver, but four-wheel carts have increased stability. For golfers who play on hilly or uneven terrain, four-wheel carts serve their purpose better.
Are push carts allowed on all golf courses?
Answer: Unfortunately, not all push carts are allowed on every golf course. Some courses have explicit rules prohibiting push carts. When playing for the first time at a new course, contact the authority. It's advisable to check beforehand to confirm that push cart use is allowed there.
Wrapping Up
A push cart offers an alternative to walking the course while keeping your bag and accessories close at hand. Also, pushing your cart can give your upper body a workout without straining your back.
Keep in mind that although our selection is a round-up of some of the most popular and quality options on the market, they may not be the best golf push carts for you. What works for others doesn't always work for you. There are various options out there, so you need to prioritize your major selection criteria. Find out and list down your demands, expectations, and requirements for push carts and start from there.
Hopefully, our review is useful enough to help you with your decision-making. Whatever you purchase, as long as you're happy and enjoy using the push cart, consider it a success.
Have an excellent golfing time!
Last update on 2023-09-25 / Affiliate links / Images from Amazon Product Advertising API