Ready for an in depth bag boy compact 3 push cart review? Golf game is a lot of work whether on the field or outside. Professional golfers and enthusiasts equally aim to have a premium experience and enjoy themselves while playing the game. Many people think that golfers are only preoccupied with nailing the perfect aim at the right time.
However, behind closed doors golfers spend a large amount of time thinking about the preparation, i.e. storing and carrying the accessories in the most sustainable and practical ways. Hiring a caddie or using the services of the club caddie may seem the easiest solution. But let's take a moment to consider this option. With all honesty, having a caddie is a lot of work.
If you are a professional golfer you have to look for the most suitable caddies, and allocate a hefty amount of money for their salary. And, if you are an amateur relying on the golf club caddies, getting along with them may not be given. Yes, push cart can absolutely substitute caddies, and elevate your golf experience. Yet, not any push cart can deliver the wanted results. It takes a special one. BagBoy Compact 3 Push Cart will definitely change your view on the matter as well as your golf experience.
In this article, we will deal with an in depth Bag Boy Compact 3 Push Cart review. We will highlight its features and specs, giving an overview of its pros and cons, and providing answers to the FAQ. If you are interested in learning more about this golf-life changing gadget, tag along.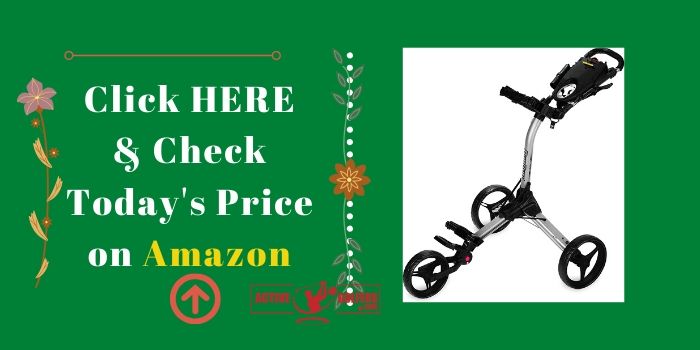 Click HERE & Check Today's Price On Amazon
Bag Boy Compact 3 Push Cart Review: here is what you need to know:
Storing and carrying around accessories are part and parcel for playing golf. Finding a practical and easy method is indispensable to having an enjoyable, fulfilling, and premium golf experience, be it a professional or an enthusiast.
It takes a lot of time and effort to find the most suitable push cart for your needs and budget to assist you at your golf game. Your mind will be spinning around trying to figure out if you should go for the push cart with the best storage option, the handy portability, the durable and sturdy cart, or the one with the lightest weight. Yet, with BagBoy Compact 3 Push Cart, you will not need to compromise any of these features.
What is a Bag Boy Compact 3 Push Cart?
The compact 3 push cart is a three wheel cart for all sorts of golf outings and golfers. What makes this compact 3 push cart a perfect option for storing and carrying around golf accessories is its wholesome and handy design. This BagBoy compact 3 push carts is at once lightweight and easily folded for portability, weather and Rust resisted, has a categorized and practical storage system, and an attractive and sturdy design.
Let's have a brief look at some of its features:
1-Turn Eyes, Fit Anywhere, and Resist Rust
From the first glance at the BagBoy compact three, you will fall in love with its aluminum built and triangular shape. It is sophisticated, elegant, with more than one interior color choice, and compact. The Bagboy Compact 3 is guaranteed to turn fellow golfer's eyes.
Yet, with beauty comes durability as well as portability. This elegant push cart is made to last and fit in. Just think about it; it is constructed specifically from aluminum to resist any type of weather. It is also compact and easily folded. It takes seconds and three simple steps to fold it and store it in your car. With that being said, you don't have to worry about your Bagboy push cart turning rusty or being a burden to carry around.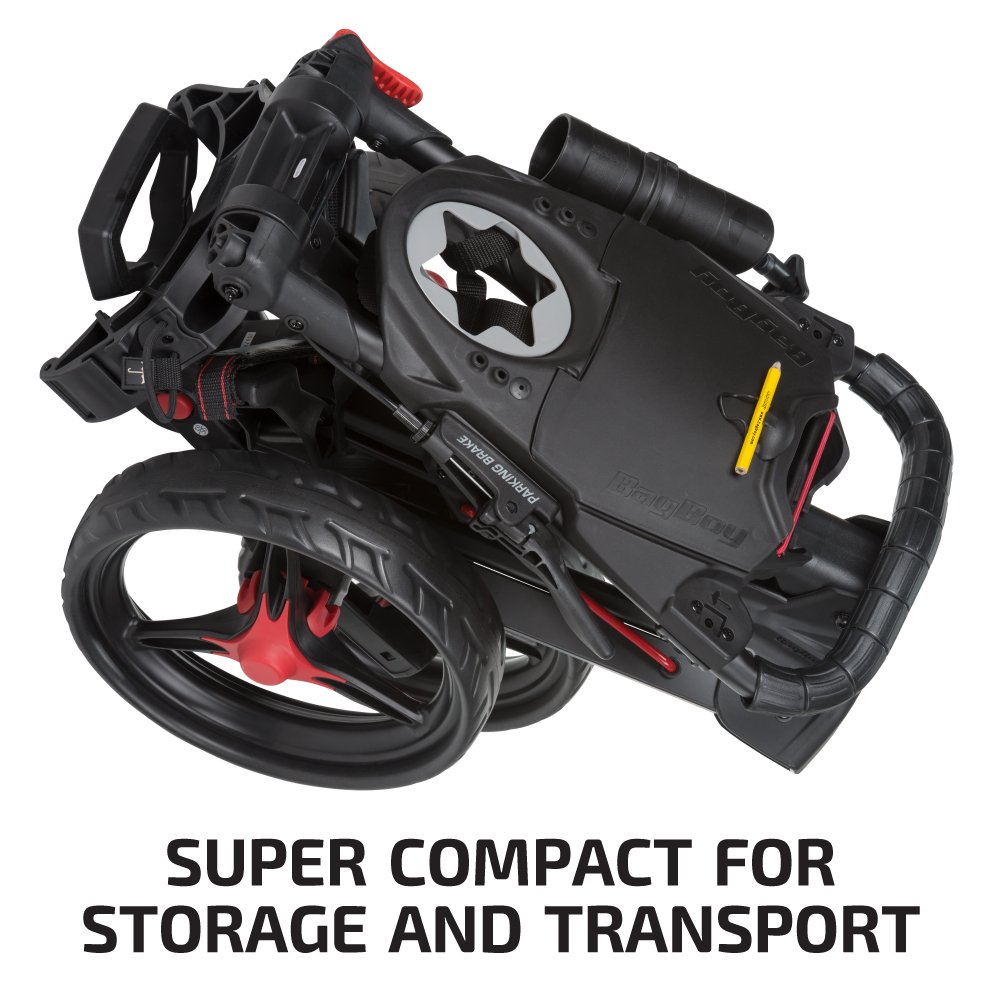 Click HERE & Check Today's Price On Amazon
2- A Well-Thought Of Storage System
As a golfer, mainly what you need is a push cart with enough storage space for your golf accessories. Yet, as a fellow human, precisely a busy modern being, you will also need a space for your mobile phone, water bottle to hydrate your body before and after the game, and an umbrella if it is raining cats and dogs, who knows! With BagBoy Compact 3 push cart, all is thought of and considered.
Here is a push cart with a full-featured Scorecard console, including an integrated mobile holder, water bottle holder, and a designed space for an umbrella. See! With Bag Boy Compact 3 push cart review your golfing experience becomes easier.
3- Do not worry about losing Control over Your Push Cart
Are you tired of bumping every once in a while when pushing your golf cart in less smooth roads? Do you dread the experience of suddenly losing control over your push cart while trying to look for the braking stop, yet it is nowhere to be found?
Dear golfer, worry no more. The Bag Boy C3 push cart feels your pain, and to relieve it, it has provided you with an efficient braking system and adjustable support arms. Now, if you ever felt like losing control over your push cart, just hold tight on the support arms, and use the bracket on the side to stop it.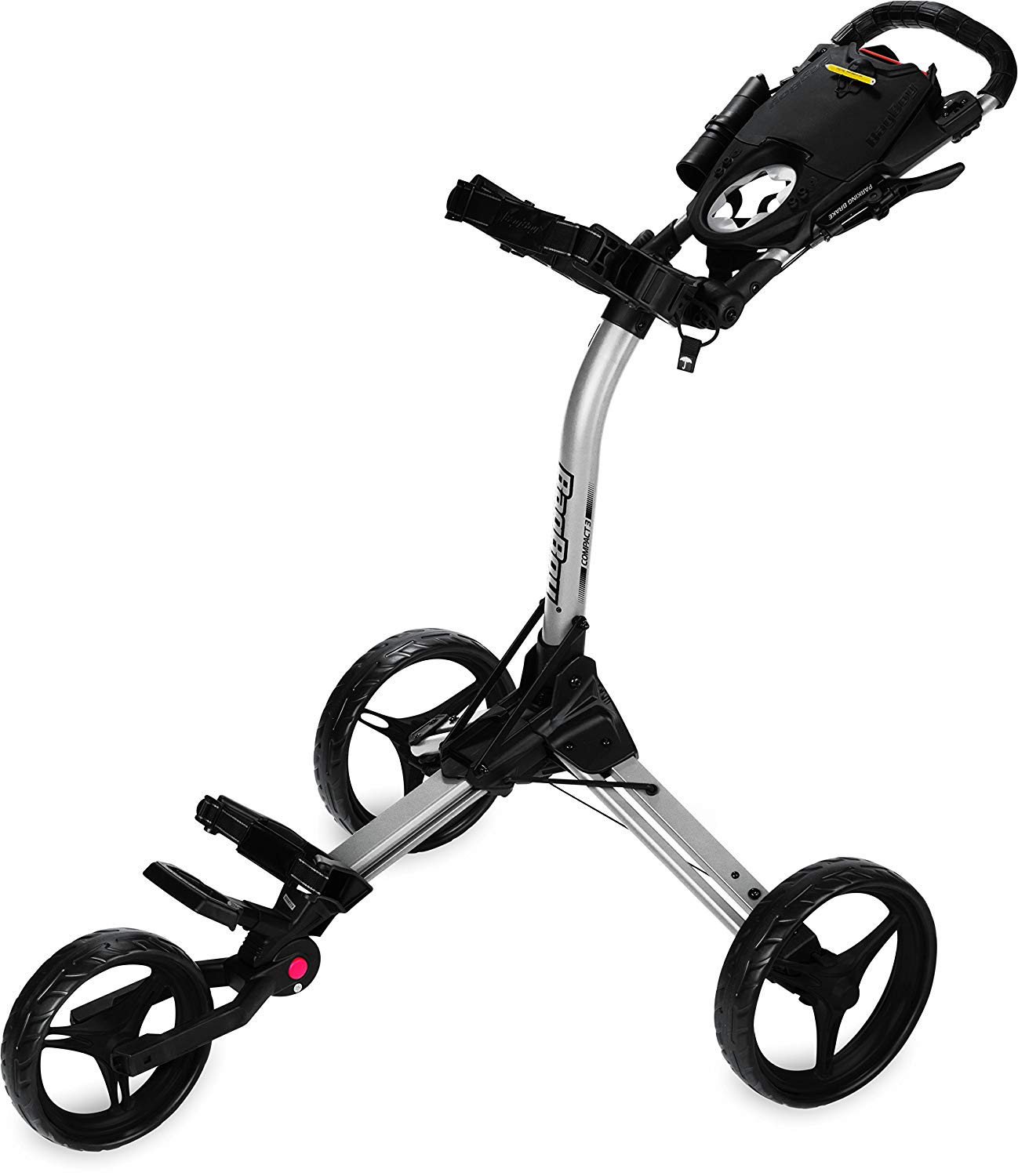 Check Today's Price On Amazon
4- Enjoy Maintenance Free Experience
Needless to say, the maintenance burden can turn any enjoyable purchase experience into a menial chore. And, it is the case with purchasing a push cart. As a golfer, you spend your hard-earned money on a push cart that is supposed to make your golfing game easier and more fun. But, you will find yourself wasting more time and money on maintaining and refilling the push cart tires to avoid deflation.
However, with The BagBoy compact 3 push carts, you can finally enjoy a free maintenance experience. The solid foam airless tires save you both time and money. Now, you can finally relax, having a burden-free experience.
5- Say Goodbye to Adjusting Your Golf Bag Every 30 Seconds
Whether you are a senior or young golfer, I am sure you are tired and sick of bending sometimes to adjust the golf back, and put it back into the cart. You may use cart straps, but they turned out to be inefficient and useless.
However, with the innovative technology incorporated in the Bagboy compact 3 push carts, adjusting your golf bag will become a funny memory. Simply put, the took technology securely and efficiently attach your bag to the cart, in a way that eliminates twisting and turning with every movement. Welcome the BagBoy Compact 3 Push cart into your life, and say goodbye to back pain.
Let's Watch a Video of Bagboy compact 3 push cart Review!
Click HERE & Check Today's Price On Amazon
Pros and Cons
No product is ever perfect. Every product has its abilities and downsides. All it takes is a product that is suitable for your needs and budget despite its disadvantages. In this regard, the following part includes an overview of the Bag Boy C3 Push Cart's Pros and Cons.
Pros
The Bag Boy Compact 3 Push Cart's Pros can be summarized in the below points:
Sturdy and waterproof aluminum built.
Attractive and elegant design.
Easy portability.
Ample and well-organized storage system
Maintenance and hassle-free tires.
Securely attached and unmoving golf bag with top-lok technology
Cons
The Bag Boy Compact 3 Push Cart's Cons can be summarized in the below points:
It has only one brake on one side which does not give full control.
The front wheel is not easily twisted.
Frequently Asked Questions (FAQs)
As any golfer who is looking to upgrade their game experience, you may have some unanswered questions about the BagBoy Compact 3 push cart. The following FAQ part will shed some light and help you make the right purchase decision.
1. Does the BagBoy Compact 3 Push Cart come with a warranty?
Yes, when purchasing the BagBoy Compact 3 Push Cart, you will receive an approximately one-year warranty in case you face any manufacture mishaps.
2. Does the three wheeled triangular shape hinder the cart speed?
Absolutely not, many people think that having a three wheeled cart necessarily means a slower cart. However, the triangular three wheeled shape makes the cart easier to maneuver and control.
3. Does the aluminum waterproof built lose its quality with time?
The aluminum waterproof body is designed specifically to last. Neither time nor weather can damage its durability.
4. Does the BagBoy Compact 3 Push Cart open and fold easily?
Yes, the compact 3 BagBoy Push Cart is both compact and flexible. It opens and folds in three simple steps to save you time, energy, and space.
5. What is the use of the Top-Lok technology?
The Top-Lok technology is integrated into the Compact 3 Bagboy push cart to securely hold the golf bag into the cart and keep it from moving.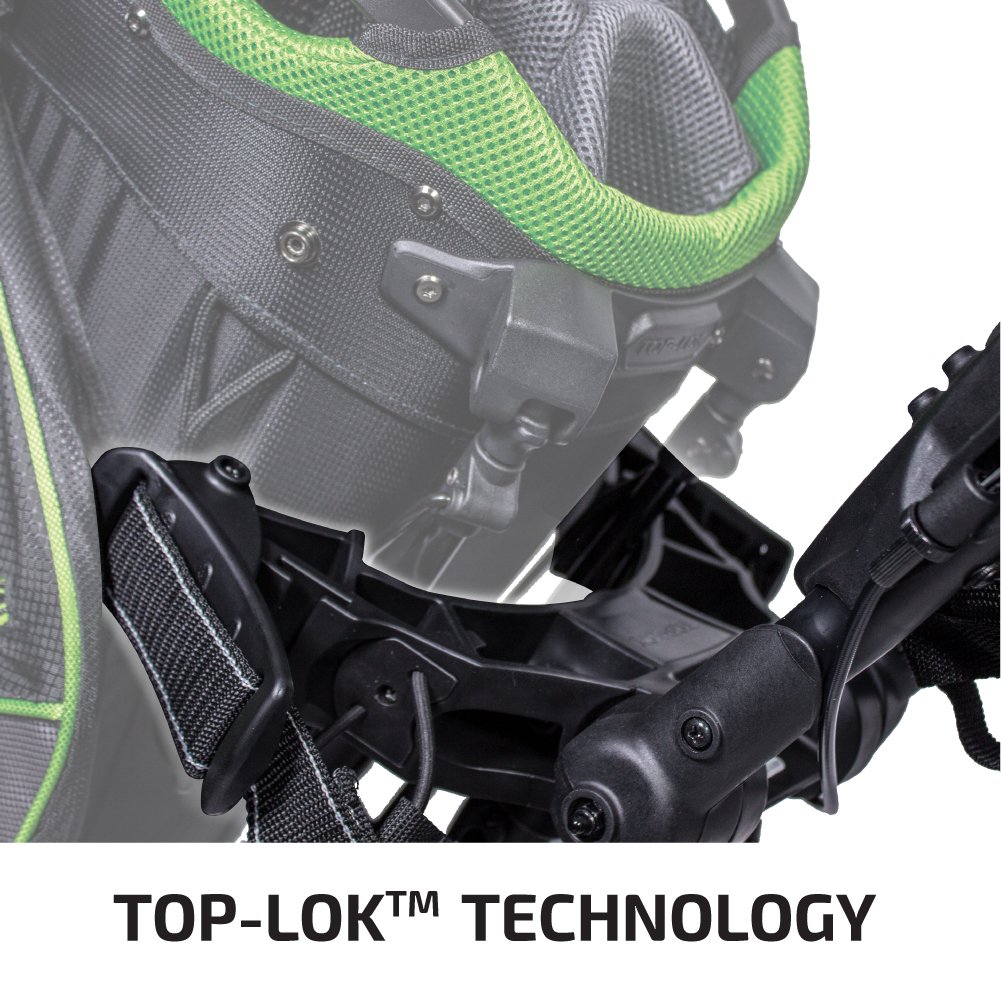 Click HERE & Check Today's Price On Amazon
Final Words:
It does not matter if you are a professional golf player, an amateur, a senior golfer, or a young one, owning the right push cart is pivotal for your golfing experience. You know at heart that not any push cart can give you the perfect carrying and storage benefits with a relaxed and hassle-free experience.
Luckily, with The Bag Boy Compact 3 push cart you can get the full package. Now, you can have an indispensable sturdy yet elegant company for all your golf outings with neither hassle nor maintenance. A premium golfing experience is guaranteed.
Last update on 2023-06-06 / Affiliate links / Images from Amazon Product Advertising API