If you are interested in the golf game, you have to learn about lots of things. Significantly, the golf term will make you confuse if you are not familiar with the golf game. You will discover lots of different things during you to join the course and when you will play.
Therefore, we will give you a complete glossary of golf terminologies for everyone who wants to know about golf terms and definitions. Once you have known about these important terms, you can challenge anyone to your game. There are thousands of golf term and phrases which makes golf a game.
In this article, we will discuss the most essential and common golf terminologies that will help you become an attentive golf player and also help you to win the respect of other golf companions.
Why are the golf terms essential to know?
As a golf player, it is essential to gain knowledge about golf terms or even if you are watching this game on television. You will understand the game better if you know the terminologies that everyone is talking about.
Pointless to say, every golf coach must need to know the golf terminology to give their trainer correct information and advice of the game. So, you must understand what we are trying to say, if you are a bit interested in the golf game, you should learn the terms used in golf.
The most crucial golf term you must need to know.
However, you already know how important to understand the different golf terms in this game commonly used. Let's start with well-known and noticeable basic golf terms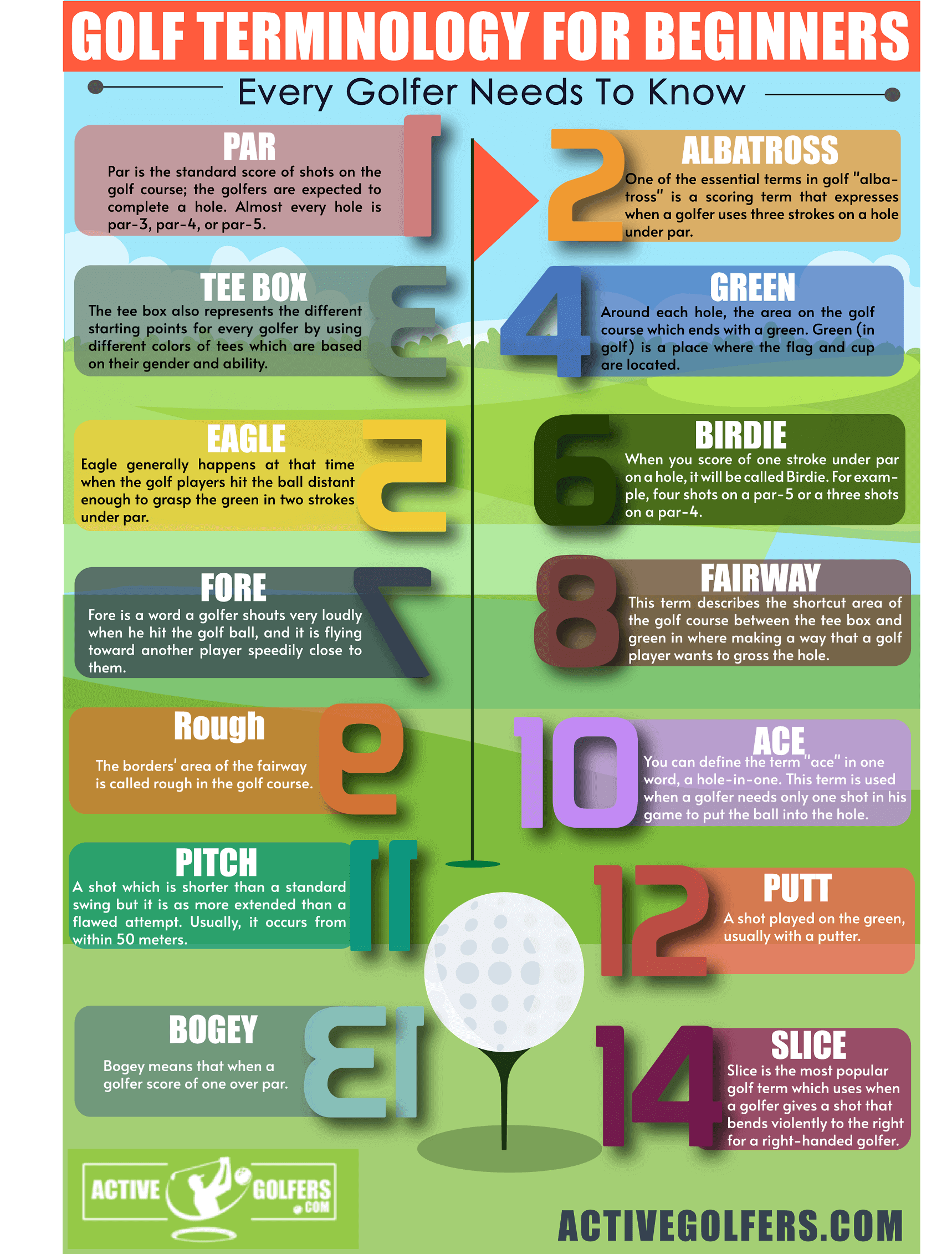 Share this Image On Your Site
1. PAR: NUMBER OF STROKES A GOLFER NEED TO COMPLETE AN INDIVIDUAL HOLE
Par is the standard score of shots on the golf course; the golfers are expected to complete a hole. Almost every hole is par-3, par-4, or par-5. At present, some new golf courses are adding extra-long par-6 holes. One of the other, par can also be applied as a collective the term in whatever way a golfer can scoring over various holes.
2. ALBATROSS: MOST GOLFERS WILL NEVER HAVE THE FORTUNE TO MAKE
One of the essential terms in golf "albatross" is a scoring term that expresses when a golfer uses three strokes on a hole under par. You can score only two ways to create an "albatross".
Firstly, you can play on a par-5 hole. Secondly, you can make a hole in one on a par-4. That is extremely difficult to achieve in the match. Many golfers have scored an albatross. But the lists of the golfers relatively very short and they are very professional.
3. TEE BOX: TEEING AREA OR TEEING GROUND
It is the part of the golf course where you start of every golf hole. It is a small hook that is made of wood or plastic in where a golfer gets permission to use it when he or she is hitting a shot.
The tee box also represents the different starting points for every golfer by using different colors of tees which are based on their gender and ability.
4. GREEN: HOLDS THE HOLE
Around each hole, the area on the golf course which ends with a green. Green (in golf) is a place where the flag and cup are located. The grass on the green is cut little to permit the ball to roll simply while a golfer is putting.
5. EAGLE: A SCORE OF TWO STROKES UNDER PAR ON A HOLE
Eagle generally happens at that time when the golf players hit the golf ball distant enough to grasp the green in two strokes under par. It usually occurs on par-5, but it also can happen on par-4. Sometimes it is also considered in a hole-in-one on a par-3.
6. BIRDIE: A SCORE OF ONE STROKE UNDER PAR AT A HOLE
When you score of one stroke under par on a hole, it will be called Birdie. For example, four shots on a par-5 or a three shots on a par-4. You already know that an albatross in rarely occur while a player score three.
7. FORE: WATCH OUT OR HEADS UP
Fore is a word a golfer shouts very loudly when he hit the golf ball, and it is flying toward another player speedily close to them. A golfer must need to use this word to warn them for their safety.
8. FAIRWAY: CLOSELY MOWN AREA
This term describes the shortcut area of the golf course between the tee box and green in where making a way that a golf player wants to gross the hole. Though the golf term fairway is not used in the rules of golf but is usually used in the golf term.
9. ROUGH: HIGHER AND THICKER GRASSES
The borders' area of the fairway is called rough in the golf course. You can also say that the surrounding area of the fairway, tee box, and green. This area is longer and thicker than the fairway area.
10. ACE: A HOLE IN ONE OR HOLE-IN-ONE
You can define the term "ace" in one word, a hole-in-one. This term is used when a golfer needs only one shot in his game to put the ball into the hole.
11. PITCH: A SHOT IS CONTRARILY ONE THAT SPENDS MORE TIME
A shot which is shorter than a standard swing but it is as more extended than a flawed attempt. Usually, it occurs from within 50 meters.
12. PUTT: A GOLF STROKE
A shot played on the green, usually with a putter. It also defines when you are on the green and using the putter. You can follow the putts on a per-round basis.
13. BOGEY: ONE STROKE OVER PAR
Bogey means that when a golfer score of one over par. A golfer generally says "I shoot bogey golf". When a golfer finished one shot over par is called a bogey, two over per is called a double bogey and when the player finished three over par is called triple bogey, and more.
Golf terms funny "Mulligan" for beginners
This term usually uses to recreational golfers who are beginners. A mulligan is when a golfer hits the previous shot again. You cannot use this term in the tournament match. If you use it, you will take a penalty.
14. SLICE: TENDENCY TO HIT THE GOLF BALL TO THE RIGHT/LEFT
Slice is the most popular golf term which uses when a golfer gives a shot that bends violently to the right for a right-handed golfer.
Let's See The Video On The Golf Terminology for Beginners:
FINAL THOUGHT
You are almost known that there is lots of golf term in a golf course that every golfer must need to know for play. When you play golf with the different golfer, you will learn more terms from them. We gave you the most common golf terms which help you to enjoy the game more.
Also, if you feel interested to read click here on History Of Golf: How Did Golf Get its Name?