Hey golfers! How is it going? Not good without the right rangefinder? I see!! Want some recommendations on it? You got it.
Golf rangefinders are trendy tools used to measure the distance between the golfer and the hole. The golfers take the help of these devices to presume the shot how they should play it.
PeakPulse 6 Pro Laser Golf Rangefinder is one of the best golf rangefinders on the market right now. There are some pro features in this rangefinder that assists golfers to focus on the shot and makes the sport more professional.
So, you should check out the detailed features before buying one. This review will help you get a better idea about the PeakPulse golf rangefinder and make decision-making easier. So, if you want to buy a laser golf rangefinder, go through the review.
PeakPulse 6 Pro Golf Rangefinder- All Things You Need To Know
The PeakPulse Laser Rangefinder is familiar for its slope-switch feature, flag acquisition, fast focus, and 6x magnification. But before moving to the key features, check out the specifications first.
Specifications
Brand: PeakPulse
Are Batteries Included: No
Color: White and Black
Material: Plastic
Sport Type: Golf
Range: 6 to 500 yards
Yard Calculation: Accurate 1 yard (1 yard= 3 feet or 36 inches)
Key Features Of PeakPulse 6 Pro Golf Laser Rangefinder
The PeakPulse 6 Pro Rangefinder is currently one of the most value-added products on the market. The device has more advanced attributes than its previous versions. Here are some prominent features of this laser golf rangefinder.
Built-in Slope-Switch technology
PeakPulse 6 Pro features a built-in slope. This industry-leading technology provides additional support to adjust the distance and assists you in figuring out the right club for your shot depending on the hole's incline and decline. It basically lets you toggle in and out of the slope.
Flag Acquisition with Pulse Vibration Technology
The second feature it offers is Flag Acquisition Technology with Pulse Vibration. This technology is helpful to lock on a flag, especially for the people who have a shaky hand. This technology offers the golfers a short vibrating burst to ensure that the laser locks onto the flag. This technology offers you the right distance measurement and doubt-free golfing.
Fast Focus System
It helps the golfer to focus on the target using the fast focus system. Playing golf with ray-bans or spectacles is not a problem anymore. You will only have to turn the eyepiece and focus on your target.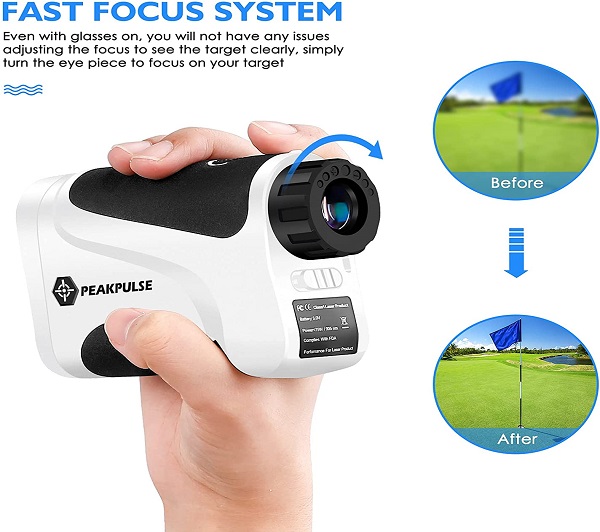 Energy-saving
The PeakPulse 6 Pro rangefinder turns off automatically after eight seconds of inactivity, saving you a lot of battery power and enhancing battery life.
Easy Operating Process
The easy operating feature of this rangefinder is another great feature. You only have to press the power button to turn it on. Even when it remains inactive for eight seconds and shuts off automatically, just turn on the power button, and it will be back to life.
Highlights
Some noticeable highlights of this golf rangefinder are- 6x magnification, crystal clear optics, fast and accurate yardage calculation, easy operation, maximum yard range, etc.
Ideal Golf Rangfinder
The PeakPulse 6 Pro rangefinder presents the feature of an ideal golf rangefinder in terms of- size, accuracy, verification, and speed.
The PeakPulse 6 Pro rangefinder offers 2021 industry-leading features that make it stand out from the crowd. Check out the key features and consider why you should carry this pro golf laser rangefinder in your golf cart.
Functionality
A powerful laser golf rangefinder must have the capacity to measure a certain distance under its range. Also, the measurement has to be accurate to give a golfer the right assumption about a shot. Therefore, accuracy in measurement is similarly important for a golf rangefinder. This gives the golfers an estimated idea about the distance and how they should play.
Size and Shape
When it comes to size and shape, golfers prefer to use a rangefinder that is small and compact. It must have a solid body that is not fragile or easily breakable. Also, it has to be lightweight and easy to use so that it does not bother them by burdening their hands.
The dimension of the rangefinder is 4.5"x 1.5"x 3", which is super convenient to carry and lightweight due to its small shape. The compact design has an ergonomic shape to carry in your hand and does not give you an extra burden. This golf rangefinder is designed in a way that you can reach all the buttons easily using only one hand. Pretty convenient, right?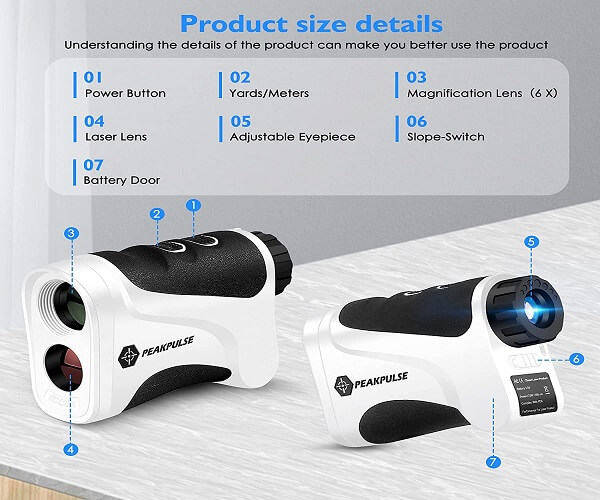 Energy Saving
Power outlets are generally not available at golf courses. Also, your golf rangefinder needs a strong battery to go through the whole time without impacting your performance by worrying about the device. So, you need a rangefinder that features an energy-saving battery.
Here comes the PeakPulse 6 Pro golf rangefinder. This device offers you an energy-saving battery that has an Auto-close Feature. This is a great attribute that saves a lot of energy by shutting off after eight minutes of inactivity. This is how it preserves power and offers you a longer using time with a single battery.
Pros
Accurate yard measurement
Energy-saving battery feature
Extended 2-year warranty
Fast focus technology ensures pro-level golfing
Lanyard included for convenient carrying
It targets only the flags and nothing else.
Crystal clear lens
Easy operation
The carry case keeps the rangefinder protected from dust and debris.
Ready-to-go feature, no additional setup required.
Cons
Not the best in its category
It does not include an eyecup, so if you have large eyelashes, they may interfere with the view.
Though this version of the PeakPulse Golf Rangefinder has a very affordable price, there is a 6S non-slip version also available at a cheaper rate with more or less similar features.
Accessories Of The PeakPulse 6 Pro Golf Rangefinder
PeakPulse 6 Pro golf rangefinder includes the following accessories in the package-
1x PeakPulse 6 Pro Golf Laser Rangefinder,
1x CR2 Battery,
1x Carrying Case,
1x Lanyard,
1x Cleaning Cloth,
1x Instruction Manual,
2-year Warranty, and
Lifetime Customer Support.
905nm Class 1 laser with less than 0.5 mW average power output
Let's Watch a Video of PEAKPULSE 6 Pro Golf Rangefinder Review

!
What Makes A Great Laser Rangefinder?
So, are the components that make a great laser golf rangefinder that can beat its competition? Here are some unavoidable features that a laser golf rangefinder must include in its structure when it comes to a great one. And it must provide value for its price.
Advanced Technology
The best golf laser rangefinder must include the latest technology, like- Pin Acquisition Technology confirming pin lock, Slope-switch Technology, Fast Focus System, etc. These features will ensure the accuracy of the shot, and you get the best-golfing measurement accuracy experience.
Capacity
Varieties of capacity are available in different golf rangefinders. Though the best one consists of features that may not be used in a tournament, such as a slope function. However, it would be best to look for the rangefinders that have the best capacity to determine distance.
Durable Structure
Durability is a common feature people want in their purchased items. When you look for the best rangefinder, you should check out whether it can survive multiple falls and handle moisture. Besides that, it must have a construction that is convenient to carry and operate.
So, these are some prominent features to look for when shopping for the best golf rangefinder.
Do We Recommend The Peakpulse 6Pro Laser Rangefinder?
Honestly, no product is faultless. So, there are possibilities that you may find some issues with this one as well. Yet, there are features that meet the needs of a pro golfer.
Therefore, we recommend the Peakpulse 6Pro Laser Rangefinder for its advanced technological benefits despite having some drawbacks.
Additionally, its sleek and lightweight design is another great feature to mention. It is surely a value for money product. So, we recommend it.
Frequently Asked Questions (FAQ'S)
Can I Use PeakPulse 6Pro For Hunting?
Yes, you can use the PeakPulse 6Pro golf rangefinder for hunting. Just use the yardage to determine the distance without any slope.
Does it come with a battery?
Yes, it comes with a battery.
Final Words
When we are closing the discussion, one must understand that a golf rangefinder should only be used for practicing purposes. Since it is not permissible for golfers to use a rangefinder on the golf course during a tournament or competition, you can still use it when practicing to improve your assumption and overall performance.
We hope this PeakPulse 6 Pro Golf Rangefinder review helps you to get a better understanding of the laser golf rangefinder. Also, it makes you consider the pros and cons of it before buying so that you choose the right one for your necessities and within a budget.
Last update on 2023-12-02 / Affiliate links / Images from Amazon Product Advertising API