Golf grips are one of the essential parts of the golf club. You can improve your game in the driving ranges by ensuring that their grips are in good condition. The following steps will show you how to clean golf grips, so they not only look good but feel good as well.
No matter how good your golfing gloves are, they can't protect you from the dirt and sweat associated with the golf game. The environmental particulates can seep into the golf grips on your golf clubs, creating a slippery and grimy surface tack that makes it harder to hold the club properly. We recommend you clean the clubs after using them with proper cleaning methods to prevent this issue.
Why should you need to clean your grips?
It's essential to keep your cord grips clean to ensure the best experience with your golf clubs. Too much dirt and grime can gather on your putter grips, which can prevent the original tackiness from staying in place for a long time. Cleaning your grips can also prevent your hand from slipping around as you try to control every stroke. Clean grips will remove the tacky feel.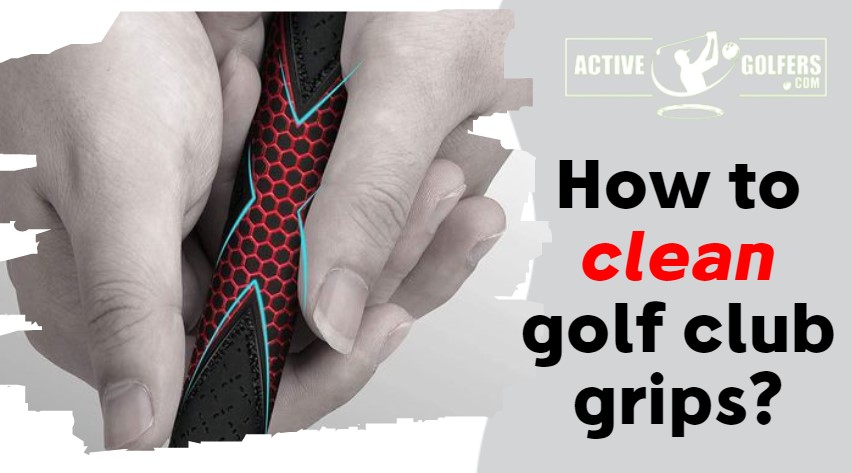 If your golf leather grips are a bright color or white grips that will dirt faster than darker color grips, you should clean the leather grips regularly. So that playing with it will not make you feel embarrassed about its appearance. That will also help prevent a slipping grip, making it easier to maintain consistency with your swing.
How often should you clean the putter grips?
After each round, your grip wear gets dirty. Between leftover sunscreen residue from hands and dirt from the golf course, keeping grips clean is an essential part of your club maintenance routine. Unfortunately, without proper care, this buildup of dirt can reduce your performance in competition. However, with an easy to use grip cleaner, golfers can remove all traces of filth, keeping their putters clean and ready for use for every round.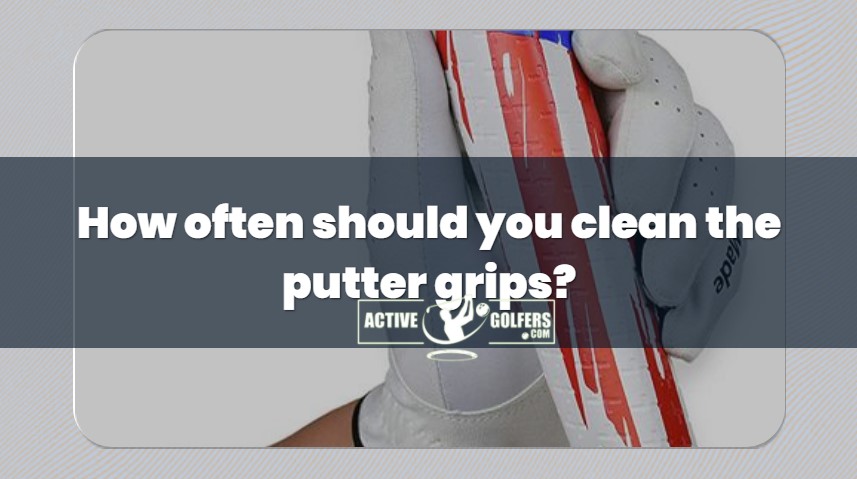 Specifically, rubber grips accumulate dirt, sweat and grime, which make them slippery when used. To clean the rubber grips, put a small amount of dish soap into a bucket of warm water. Then take a cleaning scrub brush and scrub the grips until all dirt is removed. Next, rinse off the cleaner with water, and then squeeze dry by using an old towel.
The best way to keep your putter grip clean is by removing it from the head. First, you need a thorough cleaning process with soap, water, mild detergent or a specialized grip cleaner.
You can use STIXX Golf Club & Grip Cleaner, which is best for cleaning all clubs, irons and drivers. It will help you remove all the excess dirt, mud, sand and grass from your golf club and grip.
How to Clean Your Golf Grips – The 8 Best Ways to Clean the Entire Grip
Clean Regular after Every Use
Always clean your golf club grips after around. Not only will this reduce slippage and improve comfort, but it'll remove the sweat that inevitably builds up when you're playing a hot round in the sun.
A dry towel will be just enough to wipe away any excess moisture. This process should maintain the appearance of your golf grips for weeks to come!
Prepare a Mixture with Mild Soap and Warm Water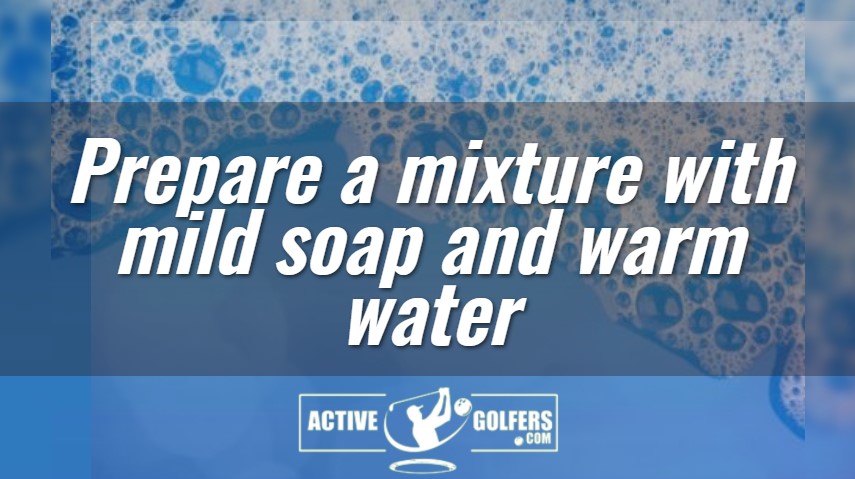 Fill a bucket with lukewarm water with mild dish soap (not too hot water). The water you use to clean your golf grip should be lukewarm so as not to do any further damage to the grip. A bucket is a good choice since it gives you enough space while cleaning your clubs.
Submerge Your Grip up to 5 to 10 Minutes
If your grip isn't too dirty, then leaving it submerged in warm soap-free water for a few minutes and giving it a quick wipe down should be enough to get it back into great shape.
When you see the dirty grips, or you need to clean the grooves deep, let the grip soak in warm water for 10 minutes, moisten a cloth with soap, and run it down the grooves of the grip.
Simply Wipe Down a Microfiber Cloth in a Bucket or Sink
Submerge a clean microfiber wet cloth towel in lukewarm soapy water and plastic bristles brush, ensuring that the entire cloth is fully submerged. After about 15 to 20 seconds, take the cloth out of the bucket. Twist the towel over the bucket to wring out excess water.
Wrap your old towel around the bottom of your grip tape, and then rub it in a circular motion on one side. Work your way up with continued circular motions until you reach the top of the golf pride grips.
Worn grips may turn rigid and lose their original stickiness. These negative effects will cause your grips feeling tighter, which can impede your correct wrist release. So it seems like it's time to upgrade the clubs with selected new grips.
Use a Toothbrush or Soft-Bristled Brush
When cleaning your golf bag or clubs, use a soft-bristled brush or toothbrush with mild dishwashing detergent soapy water solution. Hold the club near the top of the shaft with your non-dominant hand to brace it.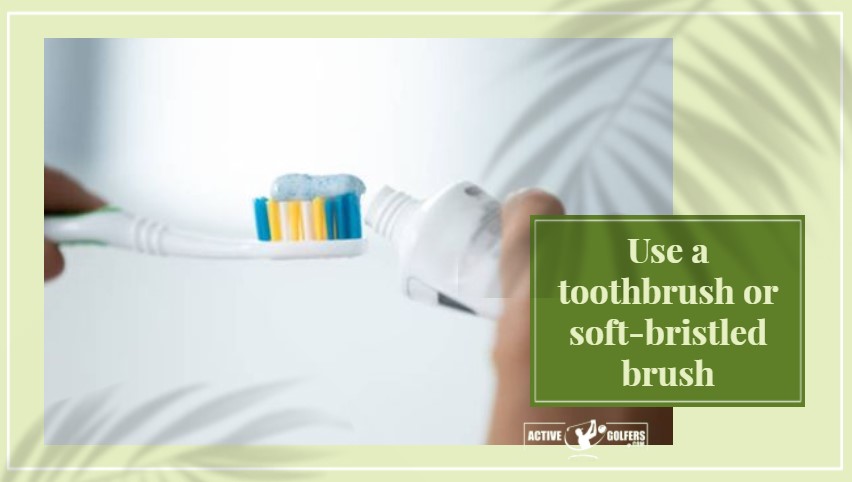 You should use back-and-forth flicking motions as you work from the bottom to the tip of the worn grips. This process will clean out any debris and areas that have accumulated.
Rinse the Grip with Clean Water
Adjust the hose nozzle to a narrow setting, or turn the handle on your kitchen sink so that the water is all the way open. Point the hose away from your club to remove as much of the soap as you can. Make sure every side of your grip is clean and pat dry before you head out to hit some balls.
Dry Your Golf Grip with a Clean Towel
Use a clean dry cloth or dish towel to absorb the warm water. Never use very hot water as the heat may cause the glue underneath the grip to come loose. Then, wrap the dry cloth around your grips with light grip pressure; rotate it as you do so. After finishing this process, set the cloth aside for later use.
Let the Golf Club Grips Air Dry Clean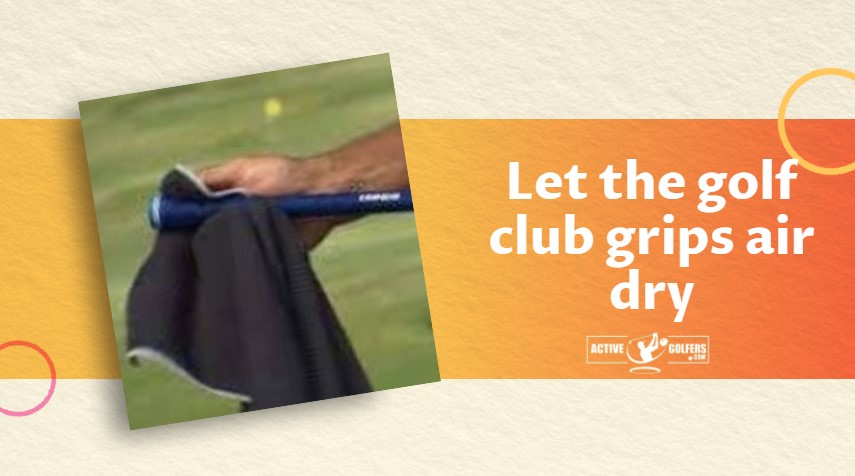 Water may still be embedded in the grip of your club. Leave your club in the open-air environment, with the grips hanging off the edge of a table or countertop. Let grips dry for at least 12 to 24 hours. Then re-grip using them again.
Frequently Asked Questions (FAQ)
How to Clean the Golf Grips with Windex?
If you're looking to clean your unclean grip after a hard day's use, wipe the grip free of any residue with household cleaners. Windex is an excellent household cleaner that will break up the dirt and oil on your club grips and leave them looking almost brand new. You can use a spray bottle on the grips.
How do I Make my golf clubs look new to increase grip pressure?
After a long round of golf, your clubs may have some rust on them. Of course, it's best to wipe down the clubs clean before and after a round to prolong their life, but there may be some stubborn spots that won't come off with a rag.
You can spray on any metal polish or use a car wheel polish for more challenging spots. Just give the clubs a minute to soak up the polish, and then wipe it off with a soft, moist cloth or damp towel. ProPlay Club grip cleaning wipes are the best grip cleaning wipes.
Do you have to remove old golf grip tape?
To remove the old grip, you need to cut through it with a knife or hook blade. Again, make sure you're cutting away from yourself to avoid injury. Once the new golf club grip is in place, your golf club will feel secured and comfortable in your hands.
Can you use soap to put on golf grips?
Warm water and soap work just fine for cleaning golf clubs, but some people prefer using the hottest temperature their water heater offers. You need to save money on a unique cleaning solution when soap and warm water are just as effective, and they're also much cheaper.
Do white golf grips get dirty?
A white golf grip is excellent for a low-key look, but it's not very practical. But, if you match a white golf grip with the black one, you may discover that the white models are very susceptible to stains.
Although they look stunningly clean and smooth at first glance, they don't stay that way for long. After your first few swings, you'll notice some unsightly fingerprints or dirt smudges on your white grip.
Final Words:
Golf clubs are expensive, and it is essential to take care of them and maintain them consistently. One part of that is cleaning the grip. Cleaning your golf club grips will help ensure that they last as long as possible and don't develop that worn-in look that drives golfers crazy.
We already gave you multiple ways to clean golf grips, so hope you will benefit from using the most popular techniques.