The dress code in golf is one of the most crucial etiquette you have a duty to maintain. Though there is no fixed dress code or attire for golf, this game traditionally follows some clothing instructions. These guidelines will also help you to be comfortable on the golf course. In most cases, golf tournaments and golf courses may have their dress code following the instructions by the R&A and USGA. They use different dress codes to categorize the golf players according to the handicap index or playability of the golfers. Golf attire includes a shirt, trousers, shoes, hat or cap, shocks, belt, color, and clothing type.
In this article, we will discuss –
Why is there a dress code for golf?
What should you not wear when golfing?
Can you wear jeans for playing golf?
Let's start from the beginning.
Shirts:
The golf experts will mostly suggest wearing collared polo shirts. It might be a full sleeve or half sleeve but should be collared. It would be better to wear traditional cotton or microfiber as you have to spend a long time in the hot weather. For women golf players, it may be collared or collarless shirts but appreciations who maintain traditional modesty.
Pants:
You can wear shorts or slacks according to your individual preference. It mostly depends on the weather. Cream, gray, khaki, beige, tan is the most used color for the pants. By tradition, blue jeans are not allowed on a golf course. Women should wear trousers or dress shorts, including undershorts. Cut pleat or v- notch on the front helps it to adjust motions with the swings.
Shoes:
Shoes are mostly considered game equipment, but they also include in the attire section. Golf shoes are useful to stay stable during swings and shots. Your shoes must be comfortable because you have to wear them for the whole day and walk throughout the course. Spike shoes are required on most of the golf courses. But metal spikes are not allowed. Sandals, street shoes, boots are strongly prohibitive.
Belt and Socks:
Belt and socks are not mandatory things to wear on a golf course. But in a way, it's attire etiquette in golf. Golfers usually wear belts matching with the shoe color. Socks are necessary for a golf player to keep his feet dry and comfortable throughout the day. Golfers can wear different types of socks. Ankle-length socks are more popular and attractive than the other models.
Hat or Cap:
Headgear for golf is not specified, but it's good to use a cap or hat to hide from the sun. Baseball caps, Visors, Cowboy hats, Bucket hats, and Wide Brim hats are mostly used to play golf.
Golf Gloves:
Gloves are optional for beginner players; you can choose a comfortable and durable glove. An experienced player usually uses gloves to find the right grip on the
club
.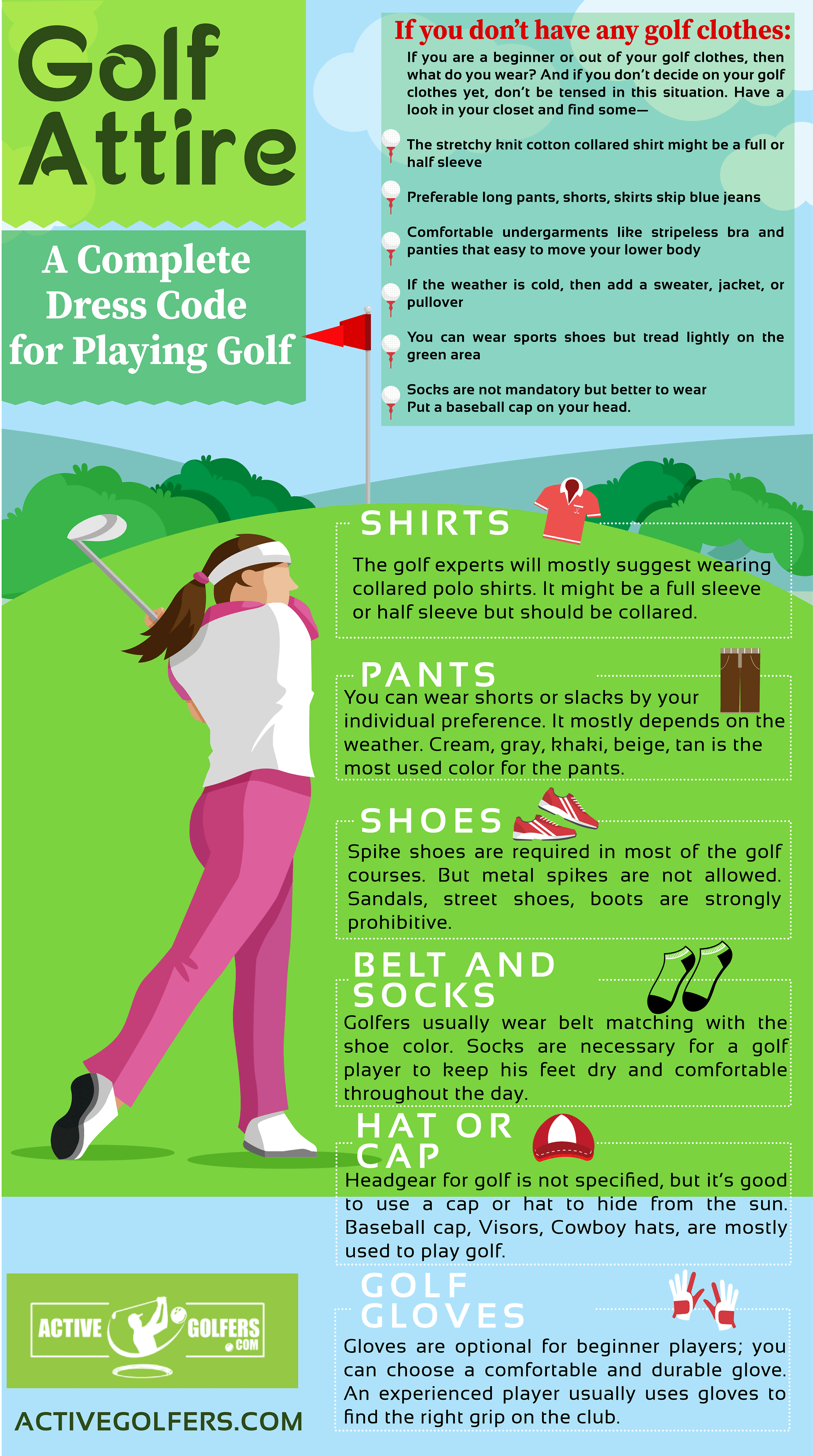 Share this Image On Your Site
Some instructions to avoid in golf attire:
For shirts:
T-shirts or sports jerseys
Big advertising banner across the back or front
Foul language in massive letters
For pants:
Don't wear white or pink – reserved only for pretentious low handicappers.
Don't wear three-quarter length shorts.
Do not wear drawstring shorts.
Don't wear blue jeans
For caps
No backward caps
No hats in the clubhouse or bar
If you don't have any golf clothes:
If you are a beginner or out of your golf clothes, then what do you wear? And if you don't decide on your golf clothes yet, don't be tensed in this situation. Have a look in your closet and find some—
The stretchy knit cotton collared shirt might be a full or half sleeve.
Preferable long pants, shorts, skirts skip blue jeans
Comfortable undergarments like stripeless bras and

panties

that make it easy to move your lower body
If the weather is cold, then add a sweater, jacket, or pullover.
You can wear sports shoes but tread lightly in the green area.
Socks are not mandatory but better to wear.
Put a baseball cap on your head.
Now, hopefully, you will not face any problem with golf attire on a golf course.
Are blue jeans allowed in golf?
Not at all. Blue jeans are not allowed in golf. Golf courses do not allow wearing blue jeans. From the beginning, this rule is following like a golf tradition. There are no rules or causes behind this issue.
Is tucking in a shirt mandatory?
Many golf courses do not require shirt tucking. But most of the golf courses don't allow untucked shirts in their ground. Tucking in your shirt may increase your attractive look on the golf course.
Are golf shoes mandatory?
The golf course is a very complex area. A different part has a different setup and arrangement. If you wear a metal spike or running shoes, you may damage the green zone. You may lose your leg grip while you take shots. That's why golf shoes are necessary on the golf course. But it depends on the authority of the golf course if golf shoes are mandatory or not. You may wear sports shoes or converse shoes with soft spikes.
Is it allowed to wear a Hawaiian shirt in golf?
There are no fixed rules about wearing a Hawaiian shirt in golf. So yes, you can wear it, but it would be better if you contact your course authority if they have any restrictions about Hawaiian shirts.
Last Words on Golf Attire:
A lovely attire is always appreciated in any situation. It's more like a tradition in golf than rules to wear more excellent clothing on the course. Golf players try to look attractive and comfortable as they have to have easy movement with their dresses. Apart from the rules, you have to be aware of comfort. You have to stay on the course for a long time to play. So, it's better to choose comfortable and easy-to-move attire for your golf day. Different golf courses may have different rules for clothing and dress code. It's always better to contact the course authority if they have any significant dress code; you have to follow their code.
We hope you have a perfect idea about what you wear to golf if you don't have golf clothes, or why is there a dress code for golf? But you must be careful while playing golf or what you should not wear when golfing. You can wear attire by following the above methods and can give excellent performance on the golf ground. If you have any questions, please comment below. We will reply to you as soon as we can.
Have a good day!
Happy Golfing!